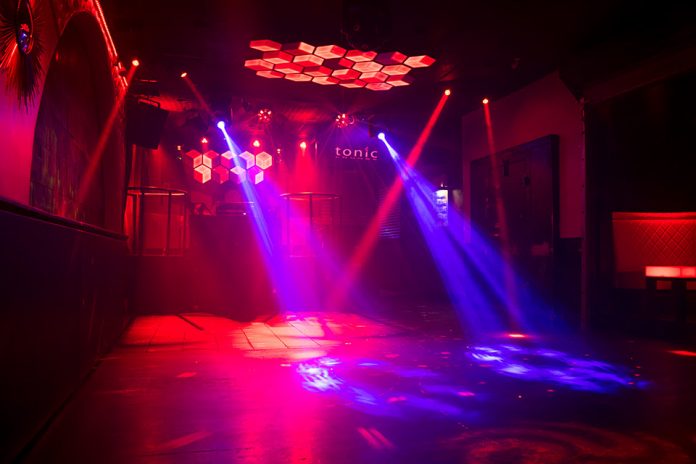 Known as 'the biggest little city in the world' Reno may not offer glitz and glamor on the scale of Nevada's most famous destination, Las Vegas but it does have a thriving nightlife scene. With a wide range of casinos, restaurants, lounges, bars, and clubs locals and tourists alike have lots of choice on a night out. However, when it gets late and all of these venues start to close for the evening, there's one place where the party is still just getting started. The Tonic Lounge is Reno's leading 'after hours' bar and dance club which has recently revamped its lighting rig with ADJ fixtures.
Established in downtown Reno for 15 years, Tonic Lounge is a popular destination for local service industry workers looking to unwind and have fun after a shift as well as for out-of-towners who don't want to stop partying when other nightspots close. Small, yet perfectly formed, Tonic is part bar, part lounge, part dance club and opens from 9pm through 'til 7am the next morning. Jon Roberts has owned and operated Tonic Lounge for over eight years and while the venue has always been popular, a couple of years ago he realised that its lighting rig was in need of an upgrade.
Originally fitted out with a selection of basic effect lights, Jon was looking to bring the latest technology in to the club to create an atmosphere that would complement the primarily EDM-based music policy. Reaching out to Troy Berry at Starsound Audio, a company that has been in business for 40 years and is well-known in Reno as the go-to professional supplier for audio, video and lighting equipment Jon explained what he wanted. Essentially, a big look in a small space. Over the next 18 months Troy worked with Jon to slowly overhaul the venue's lighting system to the point that it has now been completely revitalized with a whole host of ADJ lighting units.
Based on Jon's specific requirements and vision for Tonic Lounge, Troy specified and installed an eclectic selection of fixtures to allow a wide variety of different looks to be created within the venue. "Each of the lights has a specific purpose allowing us to build the atmosphere slowly. We can add different effects, add different layers, add excitement, as the night goes on," explains Troy. "The lighting builds throughout the evening as the crowd gets warmed up," adds Jon, "the lighting at 9pm is a whole lot different to the lighting at 3am!" The most eye-catching visual components of the new system are two separate arrays of ADJ 3D Vision panels. 9 panels are positioned at the back of the venue shinning outwards behind the DJ booth, while a further collection of 22 panels has been installed directly above the dance floor to point down on the crowd.
Having originally considered LED video panels to complement the LCD screens positioned around the venue, Jon knew instantly that the 3D Vision panels would be ideal as soon as he saw them in an ADJ Sneak Peak video last year. Troy agreed the product would be perfect for creating ambient visual effects and secured some of the first ever shipment of the product, making the Tonic Lounge one of the first venues in the world to install this new technology. Wash lighting is provided on the dance floor by four ADJ Mega QA Par 38s positioned above the 3D Vision panels at the back of the room.
Each powered by three 5-Watt quad color LEDs, these affordable and effective par fixtures offer a 25° beam angle making them ideal for lighting dance floors, stages and venue features. At Tonic Lounge, they provide illumination of the dance floor and also backlighting for the two dance podiums located at either side of the DJ booth. Two additional fixtures are also mounted inside the podiums, to up-light the dancers, while a pair of ADJ's UV Bar 20 LED units further enhance the atmosphere with a vibrant UV glow. A number of different multi-beam effect lights are then used to inject energy onto the dance floor with colour and movement.
Four of ADJ's 8-head Octo Beam RGBW LED-powered pinspot fixtures are positioned above each corner of the dance floor, while a pair of ADJ Quad Phase HP LED moonflowers are hung at the back of the floor pointing in. This provides plenty of impact, filling the dance floor with beams from every direction but Jon and Troy felt that a little more was still needed to round out the club's effect lighting. "When we found out about the ADJ Stinger II, with its combination of laser, strobe and beam effects, at such an attractive price point it was a natural choice to fill out the last space above the dance floor", explains Troy. This varied collection of effect lights allows for a wide variety of different looks to be created in Tonic Lounge, hitting dancers from all angles, however Troy and Jon felt that a single centerpiece fixture was also needed to provide a focal point for the lightshow. For this they choose to rig one of ADJ's impressive Asteroid 1200 units at the very centre of the space.
Featuring a spinning ball fitted with 12 x 15-Watt RGBW LEDs, this unique fixture uses continuous 360° rotation in both axes to create a truly room-filling effect. To complete Tonic Lounge's lighting upgrade, Jon also specially wanted to add in a couple of powerful moving head beam effects capable of cutting through all of the other lighting in the room. After a considered search, the pair decided on ADJ's Vizi Beam 5RX fixtures, as Troy explains, "Originally we were looking at some of the fixtures offered by ADJ's competitors but, quite frankly, when we saw the Vizi Beam 5RX and got it in and compared it with other fixtures we found that it was capable of really cutting through everything else in the room, it was just what Jon was looking for".
Jon specifically wanted this effect having seen moving head beams in action in larger clubs in bigger markets. True to the spirit of Reno, he wasn't deterred by the size of Tonic Lounge and wanted to create these big effects in his smaller space. And, having installed a pair of Vizi Beam 5RXs he is extremely pleased with the result, "Sometimes we'll just have those two going and it really creates an interesting vibe, people put their arms up in the air to touch the beams!" Although perhaps an unconventional installation, combining so many different fixture types and models in such a small space, the result in Tonic Lounge is truly stunning.
It allows the lighting to steadily build throughout the night, as the crowd warms up, starting with ambient colour washes and slow movements and then building up to intense beam sweeps, strobing and laser effects. "The upgrade has made a tremendous difference to the business," enthuses Jon, "and it's cool that I now have a better lighting system than some major clubs! It was a great move to work with Troy, he was definitely the brains behind the new lightshow but we also couldn't have done it without ADJ supplying the guts of the show!" "From a technical point of view, everything has also been really good," adds Troy. "We haven't had any major problems and the couple of minor issues we did have were taken care of quickly and efficiently under the ADJ warranty. And now, we're looking forward to adding more ADJ products and making the club even better!" Here at ADJ we can't wait to find out what Jon and Troy come up with next to make the lightshow at Reno's biggest little club even bigger!