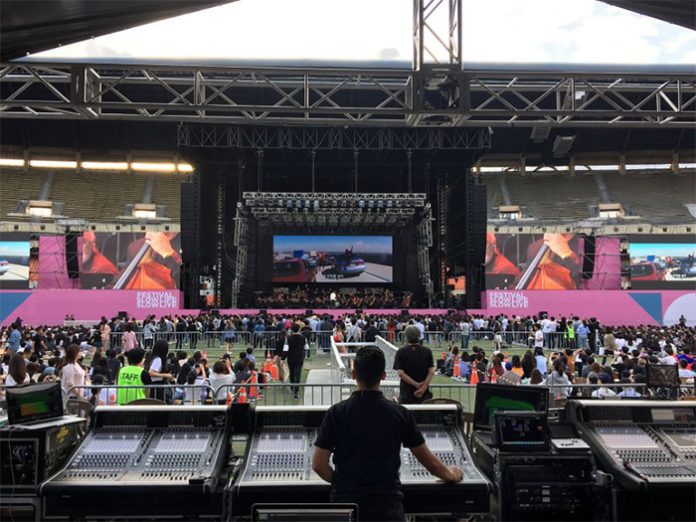 La La Land has emerged from the cinemas and hit the road for La La Land in Concert, encompassing screenings of the film that incorporate a live orchestra, jazz ensemble and choir. The tour's primary mix engineer, Troy Choi, has insisted on having a DiGiCo SD7 or SD10 desk in front of him. "Basically we play the movie from the beginning. All of the music is played by a symphony orchestra, jazz band, and choir, and it's 100 percent live."
With pickup musicians in every new city, the ability to get things up and running and sounding good very quickly is crucial. And Troy depends on the exemplary audio quality of the DiGiCo SD-Range consoles to make that happen.
"I use SD7s and SD10s, and both of those consoles are 'gain up, fader up, sounds great with minimal processing.' The sound is fat, smooth, and never harsh. Many channels run with no EQ changes other than a high-pass filter. That's helped bring a lot of success to this tour."
The only recordings are stem files for general dialogue plus sung vocal tracks for stars Ryan Gosling and Emma Stone, some background vocals, which are mixed with the live choir, effects, and a click track to keep everyone in sync. One of the features that Troy depends on to manage all of these inputs is Control Groups of which he uses 24 in total.
"Control Groups mixed with the ability to customize fader layers is crucial to wrangling all of these inputs. I'm a bit of a micro-managing kind of mixer," Troy said. "So I need to have a pretty significant level of control over workflow. The faders in the center of the SD7 allow me to set up a workflow that makes it super-easy to control all of the Control Groups with."
Each orchestra and conductor has a distinct "vibe" that can change the character of the inputs that Troy is working with. "For example, when we did the shows in South Korea with the full band from the soundtrack, I ran the band inputs hotter because the people that came to those shows came to see that band," he explained.
Other shows outside of the US, where the film was presented with subtitles, wanted to hear more orchestra, while audiences in the English-speaking world may want to hear more dialogue. Troy, who has a background as a drummer and reads music, did the first shows of the tour with a copy of the score next to him to keep track of where they were.
Troy pointed to the SD-Range consoles as a big part of the success of the show. "All of the inputs sound great without a lot of tweaking. That allows me to focus most of my energy and bandwidth on balancing out the orchestra, band and dialogue.
"Plus, I love the multi-band compressors. I can use them on literally every input without external plug-ins, and they help substantially. Sometimes, for example, a violin—even a really well played violin—can sound a little harsh in certain parts of its range. With the SD's three multi-band compressors, I can tame those harsh high frequencies without losing any warmth or detail in the rest of the instrument's range. Also every channel has dynamic EQ, which I love!"