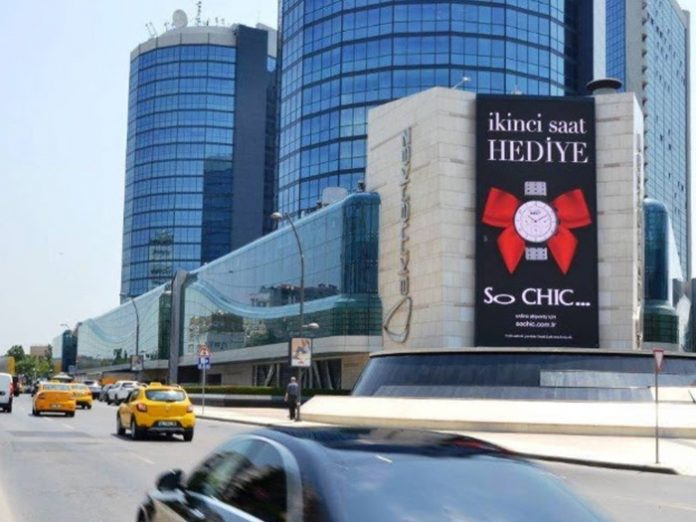 Istanbul-based office towers Akmerkez are home to an award-winning shopping mall. When the mall management turned to digital signage partner Sistem9 and systems integrator Astel LED for a display solution Absen's XD6 LED display screen was the product of choice.
Akmerkez boasts more than 200 retailers over four floors, occupying a vast footprint of 35,000 sq metres. With so much public exposure, Sistem9 was looking for a high quality display solution and the Absen XD6 provided just that. The installation is Turkey's largest with a 6mm small pixel pitch, the screen measuring 86 sq meters; it addresses all the crucial considerations when designing for this type of environment: an outdoor façade and high traffic location where both exceptional quality and round the clock reliability are paramount.
The screen hangs by the ornamental pool area at the centre of the mall. It was a location not without its challenges. Adding complexity to the installation process was an inclined surface on which to mount the screen, in addition to the humidity from the pool and ventilation system in the mall, which expelled warm air directly in the path of the screen.
Serkan Arabaci of Astel LED, the systems integrator partnering with signage operator Sistem9 on the project, was responsible for coordinating the teams on this high visibility project. He said: "The Absen XD6's features helped us to overcome some of the challenges we faced with the project throughout the design and installation process. The screen-viewing angle is great; the product is lightweight at less than 40kg per square meter. With a special bracket system designed by our engineers, we were able to address the sloping façade. Fans were installed to eliminate the effects of the ventilation system and humidity."
Selen Guler, Absen Europe business development manager, Turkey, added: "With features such as easy front and rear access for maintenance and remote screen control which links to Sistem9's Vision Digital software, the operator has complete control over the content in real time. What's more, with a shallow thickness of just 106mm, it saves valuable space in retail environments, whilst upholding our unwavering commitment to exceptional image quality."
Harun Akol, marketing and corporate communication manager at Sistem9, concluded: "Absen's XD6 enabled the delivery of this project to the client's satisfaction, with Akmerkez now providing a prestigious virtual display window for some of the world's leading brands. Absen has proven itself with the quality of its products on the world stage and we deploy its products to meet the high and exacting standards that our customers expect. We look forward to expanding our working relationship with Absen, with a number of other projects involving its products already in the pipeline."