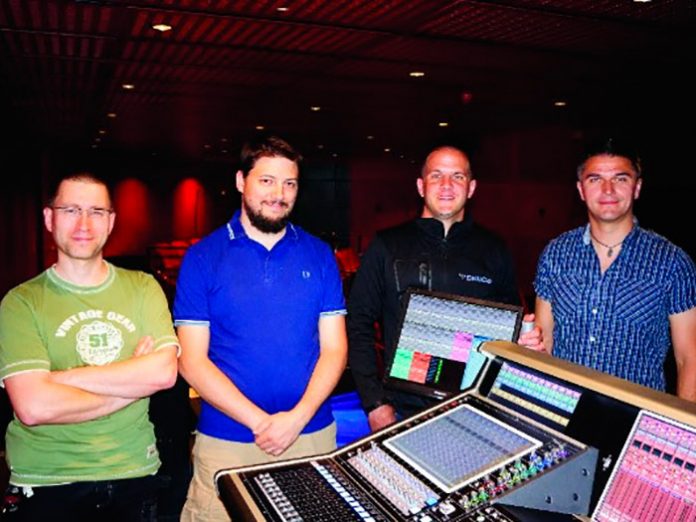 As the multipurpose Theatre Forum Meyrin (TFM) in Meyrin, Geneva, Switzerland approached its 20 anniversary, its management felt that it was the right time to give its main theatre space an audio upgrade. Two DiGiCo SD5 consoles form the centrepiece of the new system.
The 700-seat theatre hosts a wide variety of productions, including music, dance, conferences and presentations. The main house mixing console is used by visiting technicians as well as theatre staff, so familiarity and user-friendliness was a key requirement for the chosen unit.
"We needed a console whose ergonomics are very close to an analogue mixing desk," said José Bouzas, chief audio and Multimedia Technician at TFM. "The user interface had to be intuitive, allow a lot of flexibility and we had to be totally confident about using it for all kinds of applications."
Together with Technical Director Christian Michaud, José visited Lucerne's Light and Sound trade show in October 2014, where the DiGiCo consoles displayed on the stand of Tonspur AG attracted their attention.
After discussions with Tonspur, they chose the DiGiCo SD5 as the focus of a system that includes one SD-Rack, two SD-MiniRacks and a DiGiGrid MGB on a fully redundant Optocore network. A DiGiCo S21 was later added for smaller events in the venue's foyer.
Once Tonspur had delivered the equipment, DiGiCo product specialist Dave Bigg visited TFM to deliver two days of product training, including theory and hands-on experience under his instruction. In turn, this allowed José and TFM audio engineers to run product training sessions for a number of freelance audio engineers who are regularly employed by the venue.
"The DiGiCo SD5 has been very popular with our staff and freelance engineers, as well as those with visiting productions," said José. "Dave's training helped us to get our engineers up to speed very quickly and it also meant we could mix smaller events on the S21 as soon as it was delivered. Overall the investment in DiGiCo has been a very wise choice."