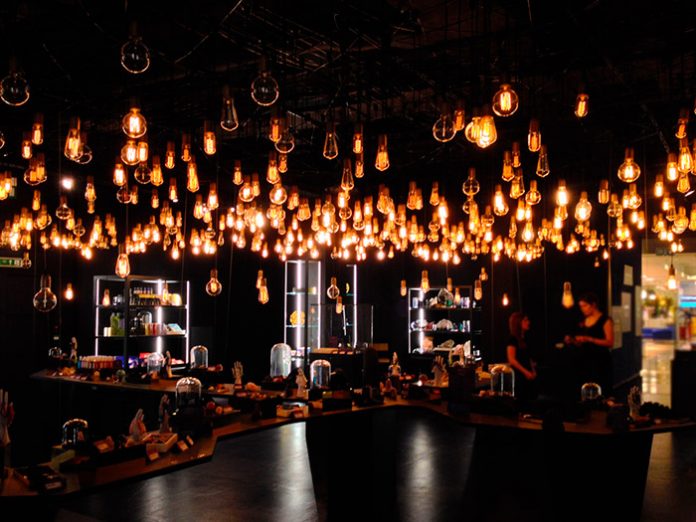 Selfridges is one of the most famous department stores in the world. Situated on Oxford Street, in the heart of London's shopping district, the store is also renowned for its extravagant Christmas decor. This year is no exception and as part of the annual celebrations, an Astrolounge has been created in order to provide customers with cosmic gifts along with out-of-this-world experiences. Having worked with Selfridges on numerous occasions, White Light was asked to provide the production support on this ambition project.
Located on Selfridges ground floor, the Astrolounge incorporates an other-worldly, cosmic theme and allows customers to experience a range of mesmerising physic experiences, such as astrology, Aura photography, Tarot readings and workshops.
The idea of the Astrolounge came from the Selfridges creative team who devised Journey to the Stars as the overarching theme for this year's installations. It was then the task of their visual projects team to design a set-up which would embody this. Once a concept had been decided, the team approached WL to make it a reality.
Richard Stirzaker, WL's Project Manager, commented: "The brief given to WL was to create an installation that covered the entire ceiling with Edison filament bulbs. The desired effect was to get these to frequently dim at different speeds to create a seemingly random pattern of glowing stars."
In order to achieve this, WL spent three days working on site at Oxford Street. Richard stated: "We had quite a large space to cover in the room so we had to plan in detail to ensure we designed the correct infrastructure to support such a custom design. Therefore we used 600 filament lamps in order to create the mesmeric effect required and make the entire experience of entering the Astrolounge as immersive as possible."
Along with working on the Astrolounge, WL supplied the lighting for Selfridges' main Atrium display. The complete production solution specialist also worked with the department store on their previous Christmas celebrations last year, which included performances by Jessie J, Conor Maynard and James Arthur, along with the switch on of the Oxford Street Christmas lights.
Richard commented: "The Astrolounge marked the sixth year we have worked with Selfridges on their Christmas celebrations. It is always an exciting project for WL as it allows us to fully draw on all of our resources and expertise."