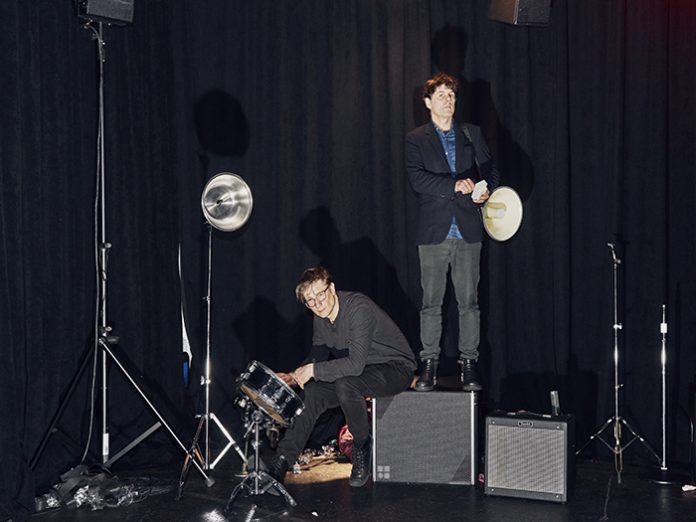 As the newly launched d&b Soundscape system continues its worldwide rollout, it is finding itself in creative and inspirational company. One such liaison is with acclaimed Berlin-based experimental electronic pop outfit Mouse on Mars.
The creative duo behind Mouse on Mars – Jan St. Werner and Andi Toma – seized upon the potential of d&b Soundscape as the perfect tool with which to demonstrate the complex, layered aural dimensions of their multi-collaborative new album Dimensional People.
The album launch event, presented with the aid of percussion-playing robots, took place during a conference presented by the Massachusetts Institute of Technology (MIT) called Dissolve Music.
For Mouse on Mars, it was the ideal environment in which to showcase the special spatial mix of their new album, through d&b Soundscape. "In this album the material, from many musicians and collaborators, was so dense, with so many elements, that we didn't want to reduce it to a stereo mix," explains St. Werner. "So the idea of making a spatial mix came up, and of course we took the opportunity."
Andi said: "We have always tried to mix our music as if it were a spatial experience – with sounds coming and going, as if the music is surrounding you. Soundscape, as a spatial technology, actually makes that possible, the tool becomes an additional instrument."
Jan added, "With Soundscape, you are not limited to that stereo perspective any more – you can actually walk around in the sound. You have a very different experience, of really being inside it."
Reviewing the launch event for the New York Times, journalist Jon Pareles said, "Rhythms, both recorded and robotic, ricocheted all over; siren tones spiraled around; recorded voices and instruments could, and did, pop up anywhere in the room. The effect was at once analytical, clarifying every element, and immersive, even disorienting, in the best way."