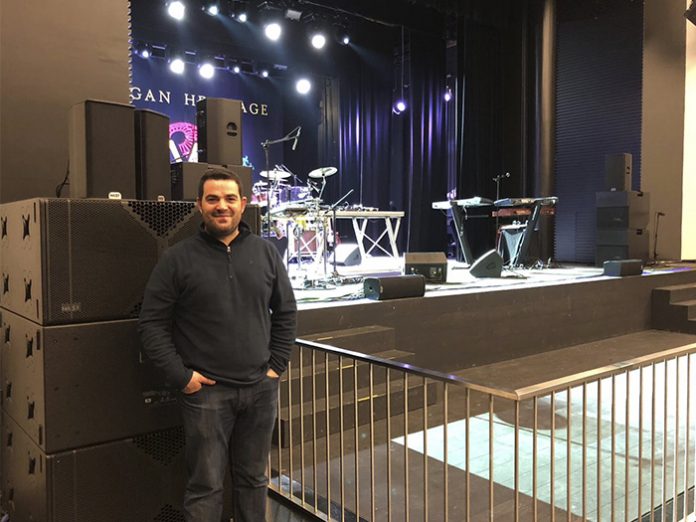 A new sound reinforcement system has been designed and installed at Capitolio Theater in Lisbon by Audiomatrix.
Capitolio is a well-known space located in the city centre of the Portuguese Capital and hosts a variety of events such as live concerts, corporate events as well as theatre activities. Capitolio needed a new sound system that could offer high sound fidelity throughout the venue for the 1500 people capacity. The whole system was specified by Audiomatrix' Technical director and FOH engineer Marco Esteves.
The choice fell on NEXT-proaudio due to a combination of its versatility, clear sound, coverage capabilities, and the easy tuning using Soundware software.
Marco Esteves used the manufacturer's support to design the setup, which comprised 12 NEXT-proaudio LA122A, 2 NEXT-proaudio LAs118A, as well as 6 ground stacked NEXT-proaudio LAs418 subwoofers as the main system, 4 NEXT-proaudio HFA108 and 2 NEXT-proaudio HFA206 as front-fill, 2 NEXT-proaudio HFA112 and 4 NEXT-proaudio HFA118sHP as side-fill and 10 NEXT-proaudio LAm114xA as stage monitors.
NEXT-proaudio's Acoustical Engineer Tiago Correia was on hand to provide technical support at Capitolio's first concert with the international band Morgan Heritage. "The configuration was a perfect choice for the venue," said Tiago. "We knew we could count on Marco Esteves extensive experience and the final result was amazing."
Following the installation, Marco Esteves, was also pleased with the sound quality, "The sound is warm and clear, it can handle anything from a jazz trio to a metal show. That gives the venue unlimited flexibility. I'm confident we've built a proper system," he said.
According to NEXT-proaudio, the venue's owner expected the system to sound good, but the results surpassed his expectations. Additionally, the company reports that the Morgan Heritage's FOH engineer who ran the opening show including on the European Tour of the band commented that the system was sounding clear, transparent and free of distortion.