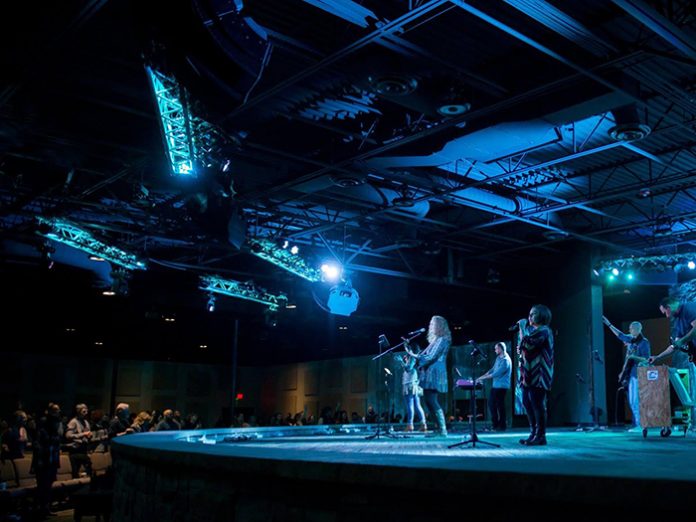 The early years of this century were tough on Kmart. Once the second largest retailer in the US, the company had been surpassed by faster, nimbler rivals. Emblematic of the chain's demise were the vacant Kmart stores that dotted America's landscape, like the one at 4411 Olton Road in Plainview, Texas. Vacant since 2002, it stood as a neglected eyesore in this West Texas town for 14 years, until it became the gleaming new home of the rapidly growing Harvest Christian Fellowship.
The transformation of the old abandoned store is instantly apparent to all who pull into its spacious parking lot, thanks to the tasteful landscaping and new building façade. Inside, the utilitarian discount store interior has been turned into a warm and inviting worship environment. At the centre of it all is a bright sanctuary stage that projects a contemporary look, while still connecting to worshippers on an emotional level. The well-planned lighting design by the CSD Group, which uses a collection of CHAUVET Professional fixtures, played a key role in creating this new worship environment.
CSD Owner Doug Hood and his design team used a combination of moving spots, beams and washes, along with battens and pars to achieve commanding looks on the church's stage without sacrificing warmth and engagement. "We relied on Rogue moving fixtures because they could help us support the musical performances at this church," said Doug. "At the same time, the same Rogue fixtures served as wash lights that transformed the mood on the stage and as key lights that highlighted people during services."
The CSD team installed 16 Rogue fixtures at the church. This includes four Rogue R1 Wash fixtures positioned downstage on truss for use as adjustable stage washes. An equal number of Rogue R1 Beams are flown over the stage for effect lighting. Also in the rig are eight Rogue R1 Spot fixtures, four of which are arranged on the stage floor, with the remaining four flown on downstage truss for key lighting.
In addition to the Rogues, the Harvest Christian Fellowship rig includes 12 COLORdash Batten-Quad 6 RGBA linear wash fixtures, which are used to accent the stage in rich variety of hues, and 16 CHAUVET DJ SlimPAR Quad 6 IRC units, which serve as truss warmers. Together, the COLORdash and SlimPAR fixtures create inviting looks on the stage by washing it in soft richly textured colors during services.
"The colours that we get from these fixtures, along with the stage lighting effects we get from the Rogues, give us the balance that the church was looking for in its services," said Doug. "We get exciting looks during musical performances and more subtle looks during other parts of the services. Both contribute to an engaging experience at the church. Looking at the design now, we're proud that this building has been totally transformed into a church."
www.chauvetprofessional.co.uk.