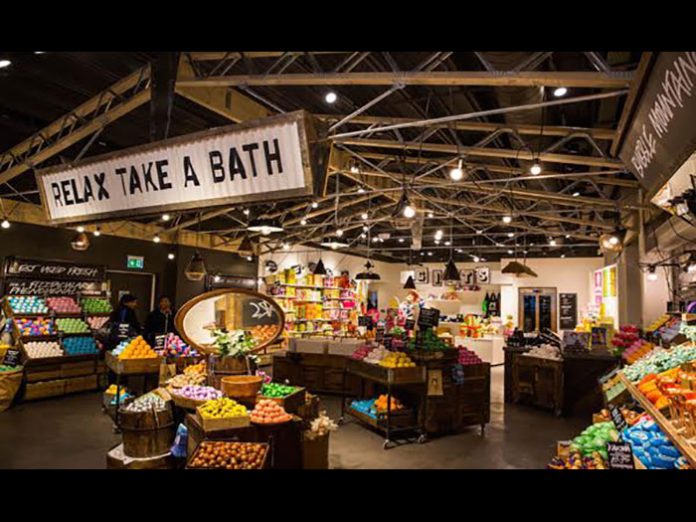 At 9,500 sq ft over three floors, Lush's new flagship store on London's Oxford Street is 13 times larger than the average size of its stores, and really sets the bar high within the international cosmetics and skincare retail industry. In line with the retailer's eco-friendly credentials and ethos, the interior blends recycled products with exposed steel girders and a floor-to-ceiling full-width glass frontage to showcase all that is innovative and inspiring about Lush.
Bose Partner, Crossover, a team known for their expertise in creating great sounding retail environments, were brought in to create the wow factor in what is set to become an iconic store. As well as specifying and installing a multi-zoned background music system, the brief included requirements for some innovative display and interactive elements, and Lush also commissioned the Crossover team to work collaboratively to deliver some bespoke items such as custom designed and manufactured MP3 listening stations.
The audio systems had to fit aesthetically, as well as acoustically – the ceilings are high and cavernous, the floors polished and reverberant, and the walls hard and untreated. To achieve even coverage throughout the store, Crossover specified a number of Bose FreeSpace 3 Omni-Mount Systems to hang at selected points across all three floors. Chosen for the good bass response and clarity of sound, this option above all offered the flexibility in terms of placement that is afforded by the ability to neatly hang the systems from the ceiling.
The resulting ambience across all three floors welcomes customers with a warm rich sound and enables the store to select music to match the mood and atmosphere that they want to achieve at all times of day. The system is linked to a large touchscreen which takes centre stage on the first floor hosting a bespoke social signage solution designed by Crossover. This acts as an interactive social media interface to enhance the customer shopping experience, with social media feeds, branding of selfies with hashtags set by the Lush staff, and video playlistings.
Lush Retail's Project Manager, Jennifer Hilton, said: "The project results delivered were better than expected. We were very happy with the customer service side from Crossover too. I found them to be accommodating in speed, willingness, flexibility and they had huge technical knowledge. I would have no concerns using them in the future and recommending them to other organisations. The audio sounds great, nice bass and we love the hanging pendants."