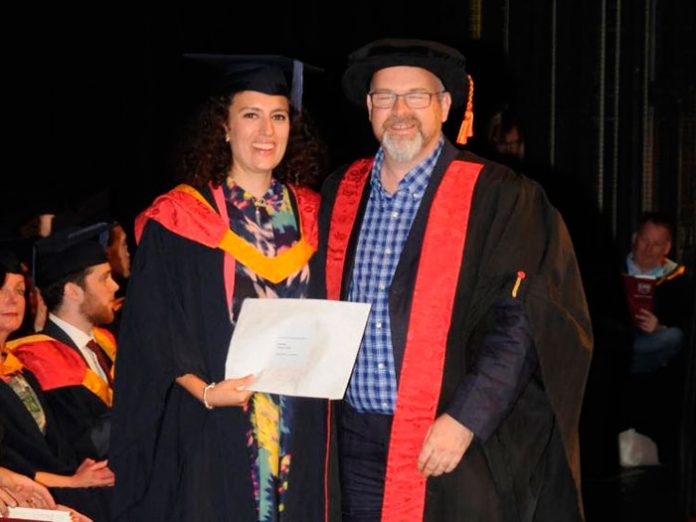 Charcoalblue, the UK's leading theatre and acoustics consultancy, has created a new internship programme in partnership with the Liverpool Institute for Performing Arts (LIPA). Aiming to develop theatrical design talent and broaden experience of the art and craft of theatre consultancy, Charcoalblue will be awarding three annual internships through this special link with LIPA over the next three years.
The internship award offers a paid position, and an introduction to all aspects of theatre consultancy, including auditorium design, technical systems and project management.
The first award winner, student Kathryn Nolan, has recently started her placement in Charcoalblue's London Studio.
"Kathryn is already bringing her enthusiasm and great talent to our studio and challenging our thinking every day," said Charcoalblue's Managing Partner, Andy Hayles. "It's great to have her join our team. It was a delight to present the award at the LIPA graduation ceremony, where Kathryn also received her first class honours degree from Sir Paul McCartney."
With a Distinction at the end of her first year, and a much celebrated set design for the LIPA production of Noel Coward's 'Hay Fever', praised on thepublicreviews.com as one of the drama school's finest ever sets, Kathryn looks to have a very bright future ahead of her.
Within Charcoalblue, she will be involved in a wide variety of work directly engaging with the design of current projects around the world.
"I am thrilled to be joining Charcoalblue as their design intern," commented Kathryn. "I am looking forward to working with a team of leading and inspiring theatre and acoustics consultants on such exciting projects. My experience at LIPA was a practical one, working as a set / costume designer on shows within the theatre. I am looking forward to broadening my understanding and technical skills of the theatre space itself."
In 2013, Andy Hayles was made a Companion of LIPA. He was awarded the honour at the summer graduation ceremony for outstanding achievement in the performing arts, and practical contribution to students' learning.
Speaking at the time, Andy commented: "It's been my privilege to contribute to the fantastic Theatre and Performance Technology Course at LIPA over the last few years. Not only are the students highly motivated, but course director Richard Reddrop has woven a fantastic series of seminars together covering auditoria design, acoustics and emerging technology. I am very proud to be playing a small part in the course's success."
LIPA is one of the UK's leading institutions for performing arts and offers a wealth of courses including acting, sound technology, and theatre and performance technology and design. "Charcoalblue is proud to be working with such an esteemed partner," Andy concluded.