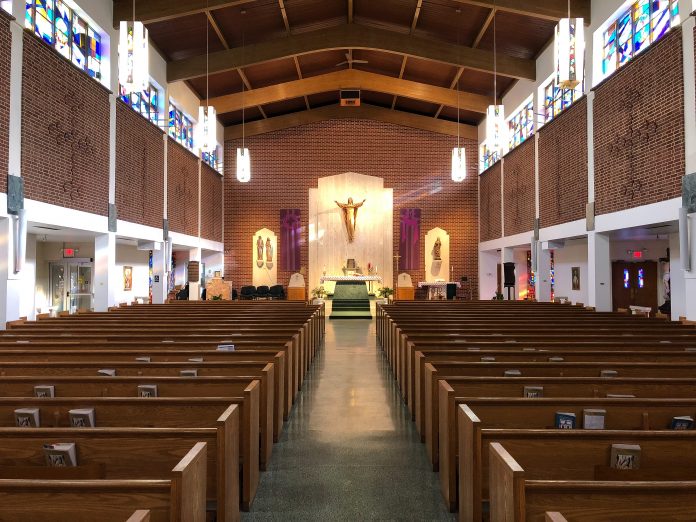 St. Bridget's is a very deep church with hard wooden pews, marble and terrazzo floors and a high ceiling so, like many churches, it represented a long and reverberant challenge for a new sound system. To provide the best solution the church turned to audio and visual solutions specialist, JD Sound & Video, having heard the company's sound systems in other local churches.
"Any system could easily get loud enough, but intelligibility was the key," commented Joe DiSabatino, president and lead design engineer of JD Sound & Video. "Community's E SERIES are our first choice in such difficult acoustic environments as they provide long throw and wide coverage angles with well-controlled, narrow vertical dispersion. E SERIES intelligibility is also outstanding and the loudspeaker's slim profile merges well with the aesthetics in such buildings."
"They'd already heard one of our E SERIES based systems at another local church so we created an EASE model to confirm we could deliver the even coverage and high intelligibility required by St. Bridgets," continued Joe.
The system designed and installed by JD Sound & Video uses two ENT-FR high-performance column line source loudspeakers flanking the altar, with a further two ENT-FR as delays. Two ENT206 two-way compact column point source loudspeakers are used for altar-fill and the system is completed by two ceiling mounted VLF208LV dual 8-inch large-volume compact subwoofers, which extend low frequencies and complement the ENT-FRs to provide a powerful music system.
The system is processed and controlled via QSC Q-SYS and powered by QSC amplifiers. JD Sound & Video also provided a Shure QLX-D wireless system and Audix mics for the choir.
"It was gratifying that the church appreciated and wanted quality, as we were not the lowest cost vendor and the solution was chosen on performance, not price," concluded Joe. "Our previous experience with the products and an accurately calculated design enabled us to provide a great system that delivers the quality and intelligibility that the church and congregation wanted."