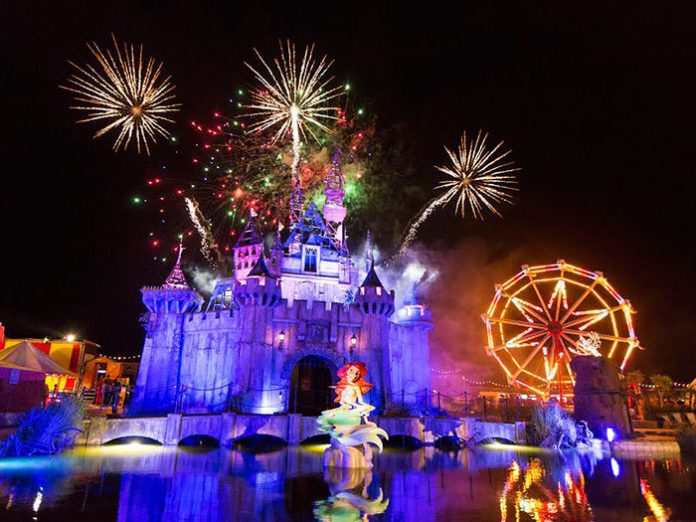 Colour Sound Experiment has provided lighting kit to LD Alan King for his illumination of the castle at the antithetical theme park wonderland of Dismaland, a temporary-pop up art intervention, located at the site of Tropicana, a derelict seafront lido in Weston Super Mare, UK. The experience is curated by graffiti artist and provocateur, Banksy.
The mangled and rusting steelwork of the castle is a sinister visual centrepiece for the dystopian experiment, and has been constructed by art collective Block 9, known for their detailed and raw urban environments created at festivals and music events.
With Alan previous experience lighting Block 9's scenic spaces, he was invited to add some special hard treatment to their version of the sacred saccharinity of Anaheim's Sleeping Beauty Castle.
The castle is an intricate object of great structural beauty, all adding to its trash-appeal. In keeping with the mean overall spirit of the aesthetic, the lighting brief was interesting for Alan as it required the environment to be lit so it can be visible at night. Alan took a theatrically deviant approach to this challenge, which also fitted into the anti-commercial vibe of Dismaland.
Colour Sound supplied around 30 x IP rated high dispersion MBI lights for which he improvised custom gel frames that clip to the front, allowing a selection of specific dirty colours to emphasise the sense of darkness, decay and dilapidation.
These fixtures are scattered all around the building, some attached to the structure and others fastened to the floor. "The MBI is designed for this type of work, and is very cost effective. They are visible to the audience so needed to fade into the set and look like it belonged there, unlike a fresnel or an LED unit," said Alan.
The MBIs are augmented with around 30 of Colour Sound's Chauvet COLORBand PiX IP rated LED battens which also diffuse the light efficiently. Again chosen for their robustness, they are a staple on the Block 9 lighting installations that Alan crafts for Glastonbury and other international events.
Colour Sound has invested heavily in IP rated fixtures which are increasingly in demand for scenic' lighting of the numerous festivals the company services throughout the summer, in spite of it being the busy season, they could supply everything needed for Dismaland.
Colour Sound's Haydn Cruickshank commented: "We were delighted to be involved in this cool and cutting edge project. The whole idea of atmospherically engineering makeshift spaces goes back to our very roots as a company. Alan has done a great job of lighting the castle and it's excellent to see the whole Dismaland project creating a stir and getting the critical acclaim it deserves."