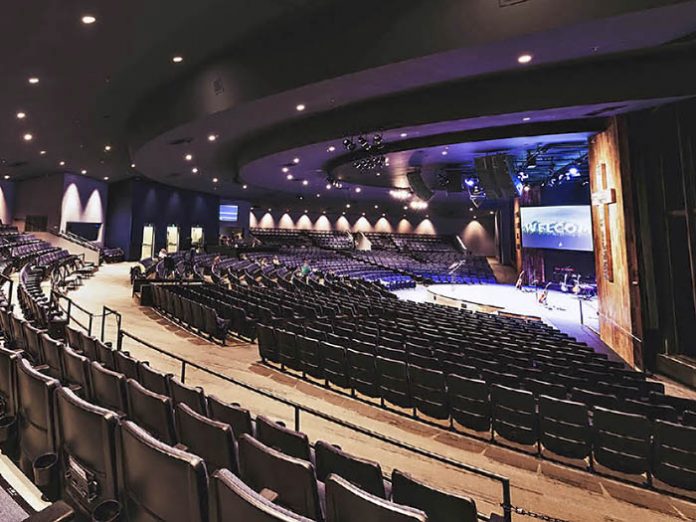 BRAVE Church, located in Englewood, Colorado, desired an impactful sound reinforcement system in their new Broomfield sanctuary that could more than keep up with BRAVE Church's unabashedly contemporary services, as well as defining the need to update the audio infrastructure at their main sanctuary in Englewood.
"BRAVE Church had already planned to launch their first multi-site facility in Broomfield in a building that is 30 miles northwest of the main campus," explained Kurt Butler president of Butler Engineering & Technology Group (BETG) who provided consulting and technical infrastructure design services to church leadership. "BETG designed the audio system using the Clair Brothers kiT12+ and kiT-Sub+ powered loudspeakers and subwoofers. The kiT Series was a perfect match with the performance criteria, physical size, and cost."
With the new location successfully outfitted for future-oriented growth, BRAVE Church reevaluated the state of its main Englewood sanctuary. Kurt continued, "The audio systems were 10 to 20 years old, and the sanctuary aesthetics had a traditional feel consistent with the church's past, but not with its future. Overall, we worked with the client to achieve their performance systems and interior design goals. This involved new rigging; augmented lighting; new video acquisition, control, and distribution; and a completely new Clair Brothers audio system with speakers, amps, processing, control, and infrastructure."
The audio system choice for upgrading the main sanctuary was Clair Brothers i218 line arrays and CS218 subwoofers to energise the church with compelling sound quality and impact. Like many churches, BRAVE Church has to contend with relatively low ceiling heights and needed a sound reinforcement solution that would deliver even coverage without compromising sight lines.
Clair Brothers i218 line arrays fire from above three points of the stage for compelling stereo imaging throughout the seating area, with low-end support from Clair Brothers CS218 subwoofers, arrayed in a cardioid pattern to give low-end directionality. "We needed a powerful and phase-coherent set of arrays that would fit a limited-height sanctuary," said Joe Bunting, vice president of sales at Clair Solutions, who partnered with BETG in the design to meet all performance specifications. "The Clair Brothers i218s provide consistent coverage, impressive output and sound quality, and the right visual aesthetic for the remodelled space. The results exceeded the client's expectations!"
A Yamaha CL5 digital mixer gives church staff command of the system, with inputs from a host of new Shure ULX-D wireless microphone systems and connection to the stage from Yamaha RIOs. A smaller Yamaha QL1 digital mixer serves the church's video and post-production needs, while a Digital Audio Labs LiveMix personal monitoring system gives the musicians on stage complete control over their individual mixes. A Lake LM44 DSP handles all of the loudspeaker processing and protection, and a rack of Lab.gruppen D-Series amplifiers power the system.
"Clair Brothers brings significant value to the industry through their speaker systems," said Kurt. "They know what it takes for gear to withstand demanding environments; they know how to communicate and integrate into broader design teams, and they know how acoustics and electronics work together to build impactful sound reinforcement systems."