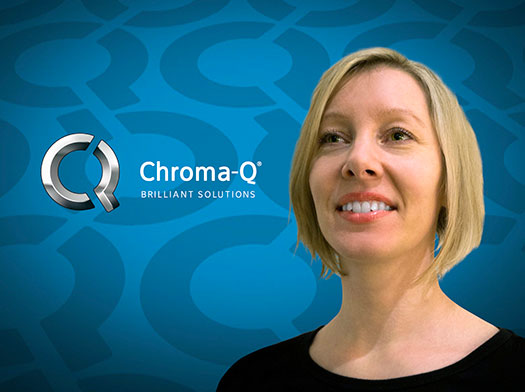 Chroma-Q, has announced the appointment of well-known industry figure, Jessica Allan, in a new International Business Development role.
With immediate effect, Jessica is responsible for overseeing development of the Chroma-Q brand in Europe, Middle East & Africa and Asia-Pacific international sales territories. This position is a result of Chroma-Q's continued strong ongoing growth in the global entertainment and commercial lighting markets.
In the role, Jessica will work closely with Chroma-Q's brand manager, John Fuller, to promote its fast-growing portfolio of lighting solutions designed for entertainment, film and TV, architectural and other key market segments.
She has more than 17 years of invaluable industry knowledge and experience, gained in various roles spanning sales, business development, and event production. Jessica has worked with some of the world's leading lighting and production designers, production managers, rental companies and manufacturers – giving her strong all-round commercial experience in many industry disciplines.
Jessica established her career at Martin Professional, progressing during her 14 years from their UK subsidiary to the company's Danish headquarters. She initially built her reputation managing a variety of market segments, from concert and theatre to TV and film in the UK. During her latter position at Martin HQ, Jessica oversaw the EMEA market in the role of Business Area Manager – Touring & Production, where she utilised her market knowledge and strategic skills. As well as honing her account management and strategy skills, these roles provided Jessica with experience working alongside marketing and product management teams to launch new models.
She then moved into an events and production-focussed business development role, working for 14 months at the London offices of internationally renowned staging company, TAIT as Sales Manager Concert Touring Europe. This involved building relationships with production managers, pioneering designers and other creative companies to fulfil their technically demanding requirements for unusual and bespoke set & stage creations utilising the very latest in staging, automation, LED lighting, video and visual effects solutions.
Jessica then invested time in developing her own business, Productionomics – a long-running personal passion to catalogue and record data on event productions, in order to help identify trends in technology and also to keep a historical record of the industry. This was followed by a year's sabbatical. Additionally, since 2009 Jessica has supported the industry through joining the voluntary committee for Showlight, the acclaimed international lighting conference by and for lighting professionals that takes place every four years. She will continue her involvement in this.