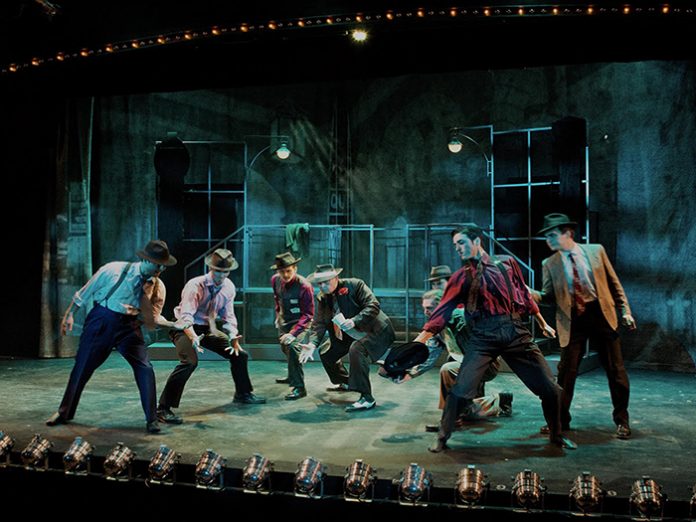 Old Log Theatre, the oldest professional continuously running theatre in America, recently purchased two Chauvet Professional Maverick MK2 Profile fixtures from Monkey Wrench Productions.
"We try to be careful and economical about purchasing," said Erik Paulson, Old Log Theatre's Technical Director. "There was a gap we wanted to fill in our rig for a fixture that could blend with the rest of our lighting. Seth Scott, the owner of Monkey Wrench Productions, gave us a demo of the Maverick. I was impressed with the fixture because of the brightness and all of the features included. Plus, the price point was below what I've seen in the past, especially for a model with integrated shutters."
The Chauvet Professional Maverick MK2 Profile fixtures were acquired in time for Old Log's production of Guys and Dolls. Since the theatre uses a number of tracked scrim drops and a relatively small proscenium opening for this show, Erik plotted his two new Maverick units in the furthest far left and far right positions from the stage. This allowed him to maintain a lower shot angle with light from the fixtures.
"In Guys and Dolls, I use the Mavericks to create texture for scenes and breakups on the scrim drops, so the low angle was important," explained Erik. "The stock gobos in the fixtures go a long way to help sculpt looks from the front. I can basically dial in the perfect zoom, edge, and shutters on a given gobo. Other focus points help define and create ambience around more intimate scenes. At other times, I use them to emulate followspots for the Hot Box numbers, using a crisp edge and obvious tracking.
"Basically, the fixtures can do anything from their fixed placement," continued Erik. "I can point any colour, gobo, and size of light anywhere on stage, plus I can use the shutters to control it like a standard ellipsoidal. It's important to have tools that are flexible to emulate the story being told on stage. Sometimes it's bold and direct; sometimes it's about subtle painting to add complexity. I'm excited to hang them in a new position in the next show."
The Chauvet Professional Maverick MK2 Profiles are not the first moving fixtures added to the Old Log Theatre rig. Erik uses a collection of moving fixtures much like followspots to accent actors. However, they provide him with a more blended look. He likes that the Chauvet Professional Maverick MK2 Profiles, in particular, offer the added benefit of shutter control along with the ability to use breakups.
"When I want the Mavericks to look like a hard-edged followspot, they will," he said. "I use them playfully with some figure-8s for some of the cues during 'Bushel and a Peck' to create a vintage nightclub feel. Then, they melt into the next look with a faded edge and warmer tone. They also have a remarkable colour correction, so they blend nicely with my traditional fixtures."
Old Log Theatre shows dramatic plays, comedies and musicals in a wooden structure with a pretty low sound floor, so noise from any lighting fixture is always a consideration, even though the theatre mics all actors. The Chauvet Professional Mavericks are hung 12' above the fifth row of the audience for Guys and Dolls. "They are really quiet," said Paulson. "There have been no comments from the Sound Designer, which is a good thing."