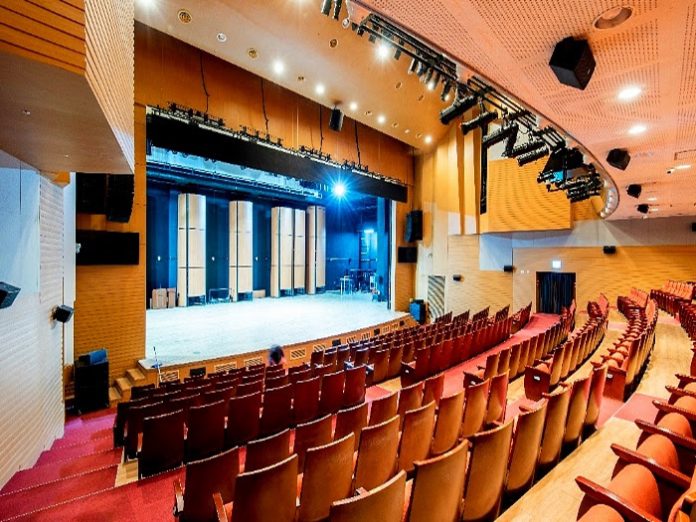 Designed by Seoul architect G.Lab, the Gimpo Art Hall boasts a wonderful architecture that symbolises the city's emergence as a contemporary hub and the agricultural history of the region.
Located on the first floor is a 509-seat theatre hosting a variety of performances including concerts, plays and recitals. However, from the very first performances, it became clear that the sound didn't match the greatness and beauty of the venue, with members of the audience and artists alike complaining about the audio.
To solve this major issue, the Gimpo City Hall called in AV distributor and integrator Sound Place, which was tasked with rethinking the entire theatre sound system and solving the complex sonic challenges. Sound Place quickly opted for a full APG solution to equip the Gimpo Art Hall with the sound it deserves.
Sangwoo Do, Director of Sound Place, commented: "The Gimpo Art Hall hosts a wide range of eclectic performances. We needed a versatile audio solution that could satisfy any type of performance, from lectures to concerts, and the answer came from APG and its new Uniline Compact range."
In order to get an accurate 3D rendering of the sound system required, Sound Place used the EASE Focus simulation software. The results quickly led them to the APG Uniline compact range from the French manufacturer. Based on the "Modular Line Array" concept invented by APG, the Uniline Compact offers maximum versatility and scalability, making it able to cover an impressive range of applications with a single system of line arrays from small to high power, and from short to long throw. A total of 16x APG UC206N speakers were laid out in the venue, coupled with eight APG UC 115B bass speakers and four infra bass speakers.
For the front-fill, Sound Place once again turned to the APG Uniline Compact, opting this time for two UC206W speakers which offer a wide spread to solve the architectural challenges of the venue. The installation is completed with 21 APG DX8, an ultra-compact loudspeaker which provides a wide and coherent sound field thanks to its coaxial technology, as well as four DMS48 digital processors offering four inputs and eight outputs. Sound Place praised the quality of its electronic design and its input / output converters (4/8), which give a high level of audio performance.
"The major drawback of the previous system was a lack of performance in the ultra-low frequencies, which was particularly problematic during rock performances. There was also a lack of sound pressure due to the low number of speakers and their inadequate position in the hall" explained Sangwoo Do.
He concluded: "The Uniline Compact has brilliantly solved all these issues thanks to its great versatility, providing a high sound pressure regardless of the type of performance. The director of Gimpo Art Hall is particularly happy with the new sound system and emphasised the perfect balance and the very high sound quality of the Uniline Compact."