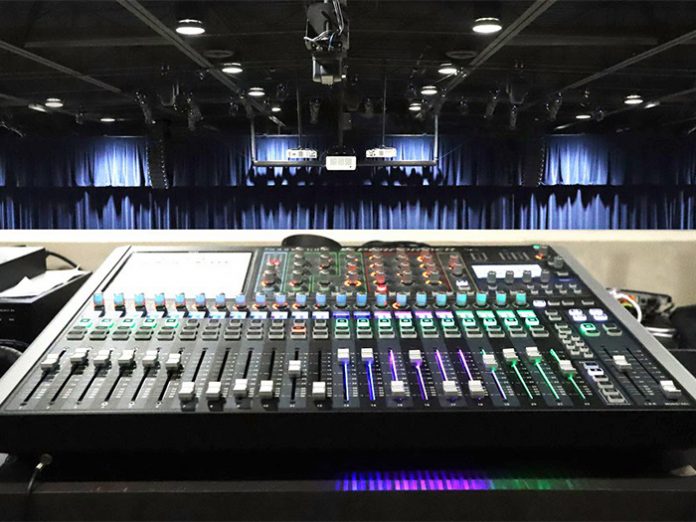 Situated on the 25-acre campus of Calvin Christian School in Escondido, California, the new 10,000 square-foot performing art centre was designed to support large-scale play productions, live music, and worship services with a variety of content.
School leaders tapped Fallbrook, California's Quiet Voice Audio (QVA) to provide complete audio system design and installation services for their new space.
San Diego Stage and Lighting was also brought in to provide acoustic consultation and treatment. QVA CEO Jon Bart explained: "There are only a few manufacturers who offer compact line arrays for small to medium-sized venues. I knew the VUE al-4 could easily deliver the big-league acoustic performance they wanted while hitting their size and budget goals."
Jon continued, "With each new experience, the al-4 delivers transparent, 3-dimensional audio with a defined dispersion pattern. Perhaps even more importantly — particularly with multi-purpose venues like the Calvin theatre — the al-4s are very linear in response when used at lower SPLs during plays and spoken word, yet perform equally as well at higher SPLs as well."
QVA's final design for the Calvin Christian School includes dual, ten-element VUE al-4 arrays at the left and right of the main stage. A pair of VUE al-4SB Flyable Subwoofers are integrated into the top of each array in an endfire configuration for maximum impact. VUE's versatile flybar makes integration of the subs and line array elements visually seamless.
All power and processing for the arrays and subs come courtesy of four VUEDrive V4 Systems Engines. A single VUE h-12W high definition full range systems with on-board VUEDrive electronics provides centre fill. Following a comprehensive on-boarding from QVA's Project Manager Barry DeHart, and System Training Tech Mike Bart, Calvin's audio team has universally embraced the new system. "They're all very excited about the sound quality and how even the coverage is throughout the theatre," said Jon.
Feedback from students, parents, and faculty has been equally high. "These results are surely a testament to a great product and a great team. It was a genuine pleasure working with Calvin's Project Supervisors Jeff Cooper, Terry Kok and Frank Steidl. They just get it," praised Jon.