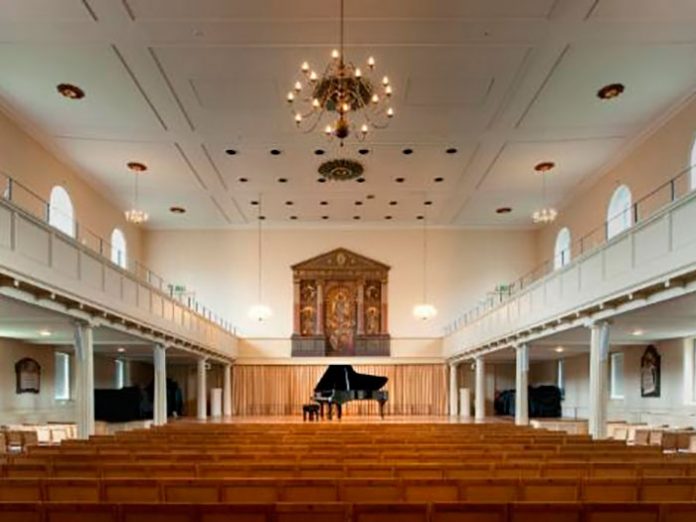 Theatre and acoustics consultancy Charcoalblue carried out acoustic testing at Bristol's St George's concert hall recently in preparation for a £5.5m redevelopment, with some surprising results.
The hall was originally built as a church in 1823 and designed by Sir Robert Smirke, architect of the British Museum. The church would have been built to suit a congregation who needed to clearly hear the spoken word, but the clarity the room provides brings an unexpected benefit to 21st century concertgoers.
Ian Stickland, Team Leader for Charcoalblue, said he and his colleagues were initially surprised by their acoustic measurements: "Looking at the objective results of our reverberation time measurements, without knowing which room it was, we would not have rated the results very highly. However, digging deeper, we find that the clarity and detail of sound that the hall provides trumps the traditional standards for reverberation."
Byron Harrison, who leads Charcoalblue's acoustics practice, added:  "The hall triumphs in other ways, aside from reverberation time. Musicians are able to explore the full range of dynamics in the hall. Listeners can pinpoint the location of a sound.
"The narrow dimensions of the Georgian building, its modest size, lack of soft furnishings (leather seat-covering rather than fabric), the well-proportioned balcony, and mix of smooth walls and finely textured plasterwork are all contributing factors to this unusually rare acoustic.
As a result, St George's is now seen as 're-writing the rulebook on acoustic design for new music venues'.
"The hall is a favourite venue for internationally acclaimed performers including cellist Julian Lloyd Webber, the OAE, pianist Mitsuko Uchida and classical guitarist John Williams," said Suzanne Rolt, CEO and Director of St George's. "They have long praised the building's sublime acoustics. Now acoustic experts have confirmed that the building has unique qualities that give music a clarity that other concert venues struggle to achieve – putting it on a par with high profile locations such as London's Wigmore Hall, Snape Maltings and the Sage in Gateshead.
The acoustic testing was part of St George's preparation for a £5.5M redevelopment – Building a Sound Future – which will see the building extended to include new facilities for audiences, visitors and performers. Once work is completed the venue will be a fully accessible concert hall and will provide a concert-going experience to match the unique and special qualities of the hall's acoustics. Thanks to the generous support of Arts Council England, the Heritage Lottery Fund and many funders and supporters the project has secured £3.5M with a further £2M to be raised for building work to commence in spring 2016.