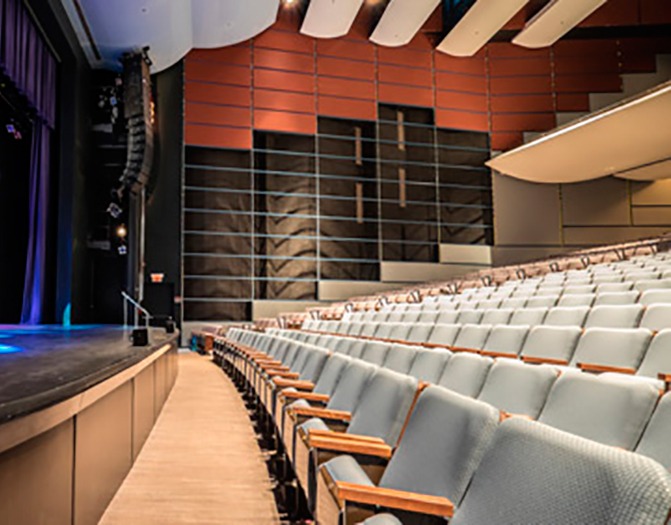 Ottawa's Centrepointe Theatre has become the first Canadian venue to permanently install a Meyer Sound Leopard linear sound reinforcement system. The Leopard system is the third generation of Meyer Sound systems to be installed in the 954-seat theatre, which has relied on the durability and longevity of Meyer Sound since its opening in 1988.
"The coverage of Leopard is incredibly uniform," reported Neil Collier, Senior Project Manager for Ottawa-based Wall Sound, which designed and installed the system. "With the same evenness in the upper and under balcony as in the rest of the house, every seat is a great seat. In addition, the flown 900-LFC low-frequency control elements have opened up sightlines for extreme front row side seats that were formerly obstructed by stage-stacked subwoofers."
According to Matt Lamarche, Production Supervisor for Centrepointe, the Leopard system has already impressed venue management. "It's working amazingly well," he said. "We're only three weeks into our new season, but now I can advance touring shows and be confident that any act will want to use this system. We are definitely happy with the results so far."
The system comprises dual arrays of eight Leopard line array loudspeakers each, with three cardioid-configured 900-LFC elements flown atop each array. Four UP-4XP loudspeakers provide front fill, and a Galileo Callisto loudspeaker management system with one Galileo Callisto 616 array processor and one Galileo 616 processor provides drive and optimisation.
"I proposed Leopard as it excelled in all the design criteria laid out in the venue's request for proposal," explained Neil. "By using the MAPP XT system design tool, I felt fully confident based on past experience that the predictions would be a true representation of the final result, and it was exactly the case once again."
After opening in 1988 with a conventionally powered Meyer Sound system, the Centrepointe Theatre made a major upgrade to self-powered systems in the late 1990's. Portions of the former systems remain in place or have been repurposed within the venue, including UPA-1A and CQ-1 loudspeakers and 650-R2 subwoofers.
Used for intimate performances and smaller events, the adjacent, 199-seat Centrepointe Studio Theatre features a reinforcement system based on Meyer Sound UPQ-1P loudspeakers and 500-HP subwoofers, also installed by Wall Sound.