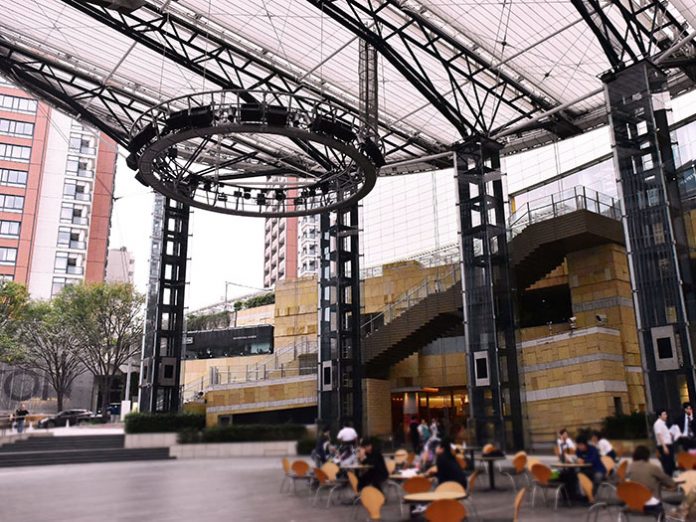 Calm and welcoming, the massive Tokyo development of Roppongi Hills is a creative hub, open to everyone. Constructed by building tycoon Minoru Mori, the mega-complex incorporates office space, apartments, shops, restaurants, cafés, movie theatres, a museum, a hotel, a major TV studio, an outdoor amphitheatre and a few parks.
Located within the development, Roppongi Hills Arena is an entertainment venue that has a huge removable roof. From live entertainment to red-carpet affairs, it will host many types of show including open-air events. This vision of the future is designed to increase leisure time and quality of life. Residents believe it will not only be a model for Japan, but the whole of Asia.
In February this year, Roppongi Hills Arena underwent a major refurbishment to enable it to adapt to even more types of entertainment. With its new outdoor capability has come the imperative to decrease neighbourhood noise pollution, and thus an improved sound system and monitoring capability was required.
After auditioning many loudspeaker brands, Martin Audio's CDD series was selected. This uses patented Coaxial Differential Dispersion driver technology and has a unique dispersion pattern compared with legacy loudspeakers. The 15" model (CDD15-WR), in weatherised format, was specified. The venue requisitioned 12 cabinets which have been installed on the round shaped truss at the top of the facility, while a further eight CDD15-WR have been installed on the wall.
The loudspeakers were carefully tuned and EQ'd to maximise their potential. Signal transport from the amplifiers is via a Dante digital network which delivers a clear, pristine sound with no loss, thanks to the digital signal path.
Mr. Sato, who specified the technology, stated that the upgrade had been without compromise. "I had been wanting to provide premium sound to the audience for a long time," he said. The goal was obvious but there were many considerations, such as it being an open-air venue and the fact that we needed to avoid noise pollution for the sake of our neighbours. In addition to that, the location of the loudspeakers in the past had not been of sufficient quality to cover every seat in the venue.
"The dispersion of CDD Series is unprecedented. Not only is the sound quality nice, but the wide dispersion brought coverage to areas that had previously been dead zones."
The installation was fulfilled by Martin Audio Japan, who will continue to support this creative city.