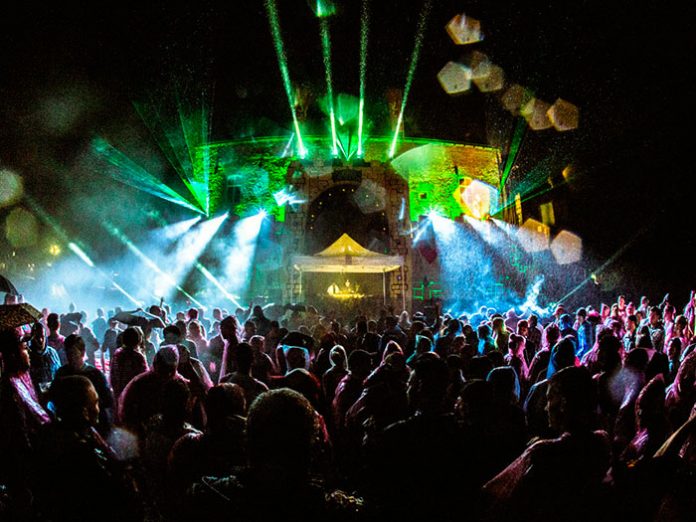 Castle of Love, a popular open-air festival held in Kerkrade, Netherlands, celebrated its 10th year this summer, with 20,000 rave music lovers gathering at the historic site for a weekend of dance music and partying. Following the use of ADJ products in 2014, Lighting Designer Tom Franken once again chose ADJ lighting to really bring the festival to life, putting some of his favourite fixture to the test on the festival's main stage, and elsewhere.
Returning to the festival for 2015 were Technical Manager Tim Vreuls, the aforementioned Tom Franken, and Lighting Programmers Tim Collaris and Bart Sevenich, with the lighting supplied by long-time ADJ partner U-Rent.
The festival's main stage overlooks the water in front of the historic castle, with the dance-floor floating on the small lake to provide a unique party environment and an electric nighttime atmosphere. On this stage, Tom put a wide range of ADJ products to use, generating thick beams of colour using the powerful CREE LED source of the Inno Color Beam LED and impress the music-lovers with strobe flashes from the SP-1500 DMX IIs.
Backed by pyros, video screens and haze from the Fog Fury 3000s, the ADJ lightshow went on to electrify the crowd further as the night took hold, with the Vizi Beam 5Rs producing sharp, slicing beams of colour and the Vizi Beam Hybrid 2Rs sending prismed, multi-faceted effects bouncing off the water, heightening the intensity of the EDM and house music being mixed by top DJs from across Europe and beyond.
In the festival's smaller areas, the role of ADJ products was equally as prominent. One stage incorporated the powerful Fog Fury Jett, with multiple machines pumping out fog to create a magical, misty setting deep in the forest, and was enhanced by the stunning strobe effects of the SP-1500 – which also featured on the main stage. Elsewhere, Tom put to use a series of Mega TRIPAR Profiles and Mega QA Par38s, with their wide-reaching washes immersing the crowd in smoothly-mixed vibrant colours.
The ADJ Group also helped with sound at this year's festival, with Tom selecting audio systems from American Audio's Sense series, including Sense 215 monitors and Sense 18B speakers on the main stage, and Sense 15 and 15B speakers elsewhere on the expansive site. These systems not only provided clarity for the DJs performing but also offered plenty of bass for the audience.