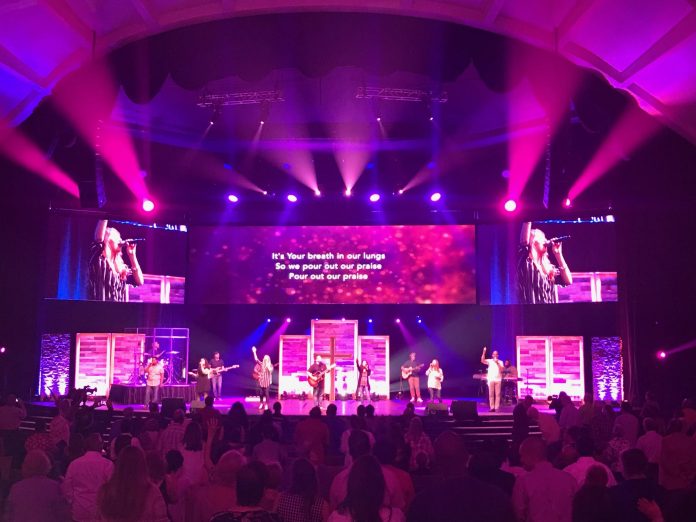 Calvary Orlando, an Assembly of God Pentecostal Church in Winter Park, Florida, has long been an active and engaging house of worship with a lively main sanctuary that can comfortably seat 5,600 people. In an effort to further enhance the worship experience for congregants, Calvary Orlando has amplified its audio-visual strategy with live video, graphics, lyrics and other media assets powered by Renewed Vision.
During worship services, the sophisticated live media presentation plays out seamlessly from a Renewed Vision ProVideoPlayer2 (PVP2) media server onto the three big-screen LED stage displays including two 16×10-ft screens to either side of the main 36×10-ft centre display. PVP2 also empowers operators to target content for a specific creative effect. Users can display the same or different content display across all three screens, or, show the same content on the two side screens with a more powerful message at the centre.
While a single PVP2 user interface can create and control multiple real-time video displays or a video wall, the Church's Lighting Director, Kirk O'Connor, prefers to control it using the same grandMA2 light console from MA Lighting that controls the theatrical LED lighting grid. "By creating this dynamic worship atmosphere, we're allowing those that attend our services to step into an all-inclusive, all-encompassing service," Kirk said. "It is a gratifying way to further serve our congregation." "With so many creative options and capabilities, it's easy to control how the show plays out, including the video, graphics, layers and effects," Kirk said. "At the click of a button, the images come up on the displays and support our pastor's sermons, our live musical performances and other aspects of the service in a very natural, integrated way."
PVP2 is a Mac OS X-based software-based media server where media assets can be stored and accessed locally on the workstation. While PVP2 controls where content is delivered, Calvary Orlando has configured an interoperable workflow with Renewed Vision's ProPresenter6 the industry's leading solution for media and lyric presentation. ProPresenter 6 delivers media directly to PVP2 for multi-screen display including worship song titles and lyrics as well as text for weekly announcements and other messages.
All of the media for the PVP2 presentation is pre-loaded into the server prior to the worship service and organised along a timeline. Once the lighting and colour schemes are designed for the service, the DMX lighting panel makes it easy for a single operator to trigger the pre-programmed PVP2 events right alongside the lighting cues. Calvary Orlando's media infrastructure also includes a video control room, situated behind the stage where a technical director uses a high-end Sony HD video switcher to produce live multi-camera programs (of the Sunday 10:30am service). These programs stream live and on-demand via the Church's website (www.calvaryorlando.org) as well as their Facebook Live page.
The media infrastructure also includes five HD broadcast cameras, setup on tripods throughout the sanctuary, a fully equipped sound booth and a Dante Audio over IP networking solution from Audinate that allows audio sources to be routed from a centralised database, delivered over Ethernet throughout the facility. The Winter Park, Florida campus includes the large Worship Center, Education Center, Family Life Centre and a small wedding chapel.
Kirk has been so pleased with the ease of use, powerful feature set and cost-efficiency of Renewed Vision software that he intends to upgrade to the company's latest generation media server, announced in April. "We plan to upgrade to PVP3 this fall which will open up new creative options such as how the videos can be composed, how we can pick the layers for display and how much control we have over the system," Kirk said. "Despite its powerful processing engine and features, it's so user-friendly that I can have new volunteers trained to run it very quickly. Most of all, our Renewed Vision software helps us keep our congregation engaged while attracting new members to our growing Church."