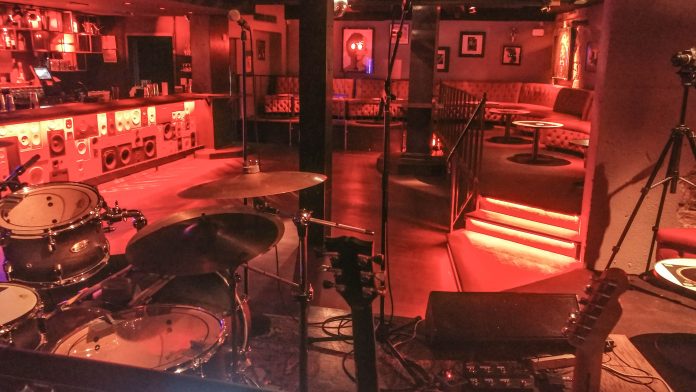 If you're in New York City's Nolita district, north of Little Italy and east of Lower Manhattan and you crave American comfort food and good music, wander down to Broome Street and Bowery and check out Esther & Carol. Named for the proprietors' mothers this multi-concept eatery is split into three sections, an Art Deco-inspired American bistro (Esther & Carol), a takeout burger window (E&C Burger) and a music-focused basement lounge (E&C Studio).
The upstairs bistro is light, airy and relaxing but music fans flock to the basement lounge where high-caliber musicians perform through a new sound system built around a Symetrix Radius 12×8 EX DSP. Inspired by a 1970s-vintage recording studio and featuring a full service bar the lounge can handle up to 100 patrons. The walls sport classic images of music legends and Gibson guitars that musicians can take down and play. The atmosphere is designed to stimulate inspired musical performances for a relaxed-and well fed-audience. However, E&C Studio is, after all, in a basement. It's a tight space with low ceilings and system designer Peter Turloch of New York-based Art of Entertainment quickly realised that the new sound system would need to have a minimal footprint and be carefully managed.
"It's a pretty typical New York City basement, and the ceiling is quite low so the space required several sets of loudspeakers," Peter recalls. The system starts with a pair of house speakers with subwoofers and a pair of stage monitors. Another pair of speakers is positioned 18-ft back from the stage, one facing the bar and the other facing the side seating. Subwoofers sit underneath those loudspeakers built into the raised floor that supports the side seating. Another pair of speakers serves the rear seating area with the Symetrix Radius 12×8 EX handling speaker management for the whole system. All loudspeakers are from Renkus-Heinz.
"Live music is a very important component for E&C," emphasises Rich Trombitas of A/V experts Cardone, Solomon and Associates who guided Peter toward the Symetrix DSP solution. "John Legend is one of the investors, so they bring in top-level musicians. The quality standards are high so they needed a DSP with very wide dynamic range that provides uncoloured processing of live music. Symetrix DSPs are a great choice for that."
The Radius 12×8 EX, as its name implies offers 12 analog inputs and 8 analog outputs plus Dante I/O. "Since we had so many loudspeakers and subwoofers, we added a Symetrix 4 Channel Analog Output expansion card giving us a total of 12 analog outputs," notes Rich. "On the front end, the Midas M32R main console including the monitor outputs goes straight to the Symetrix Radius. There's a Pioneer DJ mixer as well and both the line outs and monitor outs of that go to the Radius. So when artists use the mixers, the stage monitors are processed by the Radius 12×8 EX DSP along with the house speakers, delay speakers and subs."
Using Symetrix Composer programming software, Peter set up delays for the loudspeakers so that the imaging was correctly oriented to the stage. Careful timing ensured that all speakers maintain the stage as the point of origin. Another consideration was that E&C Studio hosts a variety of DJs and engineers. "Given all the guest DJs and engineers who don't work regularly with the E&C system they needed comprehensive speaker dynamics control," Peter explains. "With the Symetrix Radius we could set up the system to allow optimal levels while minimising danger to the speakers-and the patrons' ears-if someone turns it up too high."
The ownership group is delighted with their new system. "They liked that I steered them into a great solution for addressing the low-ceiling environment, the tight space and the minimal footprint that was required," Peter reports. "With the Symetrix Radius 12×8 EX we could precisely manage timing and levels while maintaining a clear, clean signal to the speakers and control is also easy. In a challenging acoustic environment, E&C has amazingly good sound that fully meets their expectations."