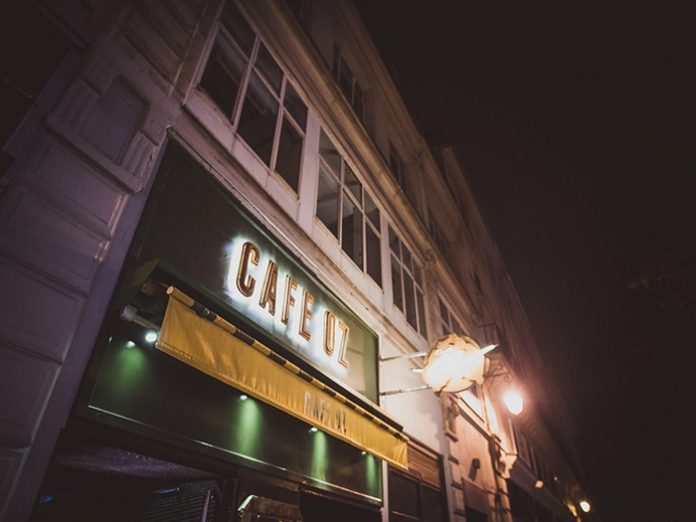 More than 1.2 million Australians visit France every year according to a DGE and Banque de France survey. Those who happen to drop by a Café OZ will undoubtedly experience a familiar sense of home, but with a decidedly French twist. For 25 years, these lively gathering places have been treating customers to a welcoming and uncomplicated "Australian Style" pub and club atmosphere in France with music, sports, and plenty of good times.
There are three Café Oz locations in Paris and one in Bordeaux. Each has décor suggestive of the Land Down Under with Australian flags, posters and statues of native fauna like kangaroos. Setting an engaging and friendly mood at the clubs is a collection of CHAUVET Professional fixtures.  Each venue has its own rig of lighting fixtures depending on its design and the general nature of its customer base according to Remy Zakine, artistic director of Café Oz.
Remy, who began working at Café Oz 15 years ago as a DJ, believes that lighting is essential to creating an inviting atmosphere at Café Oz locations, which draw large crows of French locals as well as tourists from Australia and many other countries.
"I have always been passionate about the technical side of club design and what it can contribute to our guests," said Remy. "We place the projectors on the ceiling above the dancefloor to create a clubbing mood. I like to specify the Chauvet products, because their compact size allows us to get dramatic dancefloor effects even though we must place them on our low ceilings and other tight spots."
The ability Remy's fixtures to overcome the challenges of tight quarters is readily apparent at the Café Oz Châtelet club and Café Oz on the rooftop of the Cité de la Mode. Although it offers dramatic views of the Seine and features performances by prominent DJs, this popular nightspot's low ceiling makes it difficult to get wide beam angles when lighting the club floor.
However, guests who crowd the club every evening would never be aware of this issue, thanks to the 11° – 48° zoom range of the Rogue R1 Wash, which allows Remy to get wide coverage with the lights, despite the low hanging positions. Remy has 10 of these RGBW moving LED fixtures placed throughout the club.
"This is really an excellent fixture for this venue," said Remy. "It's small, but dynamic, and we can draw on its features to get excellent coverage despite the ceiling height constraints."
Accenting the features of the Café Oz Châtelet are the 24 EPIX Strip Tour fixtures that Remy has placed in the room. The ÉPIX 1-meter long RGB LED strips enliven the room with their vivid colours and present crisp images to patrons from anywhere in the club, thanks to their 125º viewing angle.
In contrast to the pulsating nightclub vibe on the Seine, the Café Oz Denfert Rochereau is decidedly more laid back.  More of a sports bar with one main room and two terraces, its dress code is relaxed, so too is its lighting. Remy relies on two Rogue R2 Wash fixtures to create festive colour tones at this location. He also called on two Rogue R1 Spot units to provide powerful accents.
Café Oz at the Grand Boulevards occupies multiple positions in Paris' nightlife, flourishing as a sports bar, restaurant, and nightclub featuring artist like DJ Skilz.  The versatile lighting rig here includes four Intimidator Trio and four Intimidator Spot 260 fixtures from CHAUVET DJ.
Although Café Oz is built around a single unifying "Australian Theme," it fills a wide range of roles for its customers. This is very evident in the Bordeaux location, which serves as a sports bar, after work meeting place, restaurant, and nightclub. A diverse rig that features four Rogue R2 Wash, four Rogue R1 Wash and four STRIKE 4 fixtures is used to give the club the flexibility needed to fill these many roles.
"A very important benefit of all the Chauvet devices is their versatility," said Remy. "Designers and programmers can create different atmospheres using all the diversity that each product offers. This allows us to provide the customer with a diverse range of experiences."