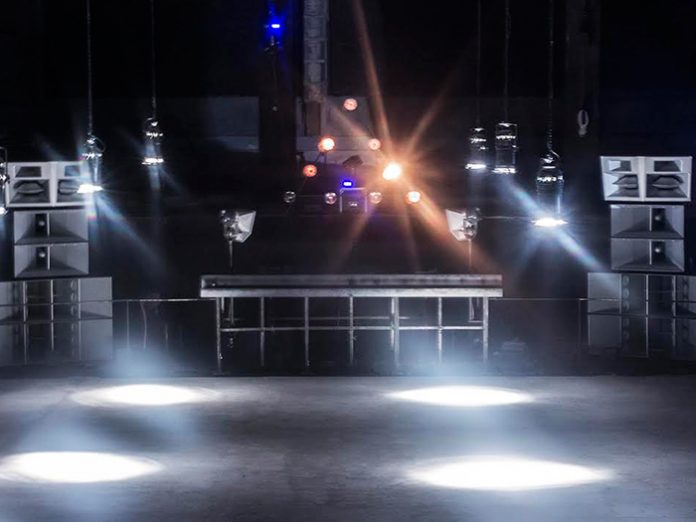 Funktion-One specialist, Blue Box London, has completed a nightclub installation in Georgia. The company, which played an important role in the loudspeaker manufacturer's introduction to Ibiza at the beginning of the millennia, has continued its pioneering ways by exploring some new territories in recent years. Its latest project, Bassiani sees the first ever Funktion-One Dance Stack installation in Georgia.
The main room is home to two towering Funktion-One DS4 Dance Stacks. The DS4 configuration features two F221 21in bass enclosures at the base, two DS15 speakers for punchy upper bass and low-mid frequencies, and two DS210 loudspeaker enclosures, featuring dual axhead-loaded 10-inch mid-high drivers and dual 1.4-inch compression drivers.
Two Funktion-One Evo 6SHs – the skeletal addition to the new Evolution 6 range– have been deployed for infill. Amplification for the main system comes from two Funktion-One E100 and two E25 amps – both manufactured to spec by MC2. DJ monitoring is handled by two Funktion-One Resolution 2SHs and two F118 Mk2 bass enclosures, driven by a Funktion-One F60Q amplifier (manufactured by FFA). The set-up is controlled by XTA loudspeaker management.
Bassiani's Guram Gotsadze commented: "When we first sat down It was not a long and big discussion about what sound system we would love to see in our new venue, based on our experience in several clubs abroad. All of us wanted Funktion-One. Yes, we talked with a couple of other suppliers, but it was mainly for a brief understanding of the market prices. You know, everything in the end goes down to the budget and you should not go too far beyond your limits.
"When we first heard the reply from Blue Box London, it was clear that their approach to the project was exactly what we were looking for. You see, we never wanted to have Funktion-One speakers just for its name, we wanted the sound that has helped it to gain a reputation as an 'industry standard' speaker system. The correct understanding of the room, demand of its acoustical treatment, Funktion-One itself and its precise setup is the reason our system provides so much clarity and detail. Together with the DJ, the system is responsible for stirring emotions through sound. Oh, and it's hard not to mention, those 21-inch subs – they're awesome."
Blue Box's Mark Metcalf added: "Dealing with Guri was a joy; he asked all the right questions and clearly cared deeply about getting it right. On my recommendation he really wanted to add the Res 2 / F118 DJ monitor system to his spec but was already over budget. Somehow he managed to find the money. The first DJ agent asked the promoter what the monitors were and was reassured by the fact that they were also Funktion-One; it shows a level of commitment to the artists that is hard to argue with."