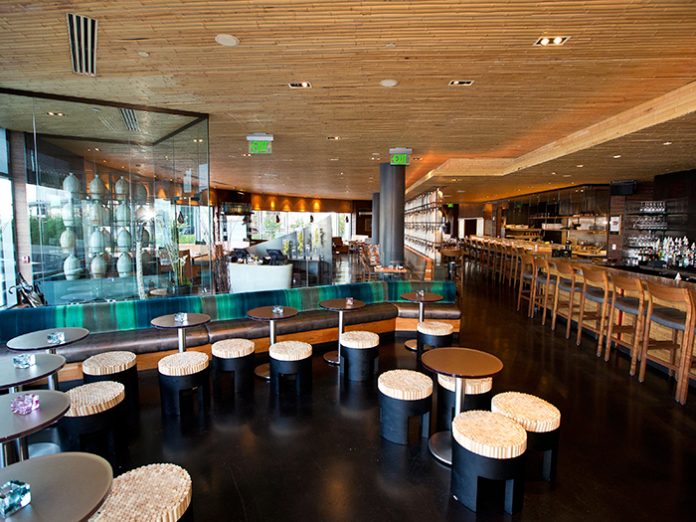 Located at the water's edge in the Baltimore's Harbor East neighbourhood, elegant Azumi Sushi continues the city's fish-loving traditions, Japanese style, while fitting in perfectly with the modern Inner Harbor's trendy, upscale vibe. The stylish but comfortable restaurant features a small lounge area with a DJ booth on one side, a sushi bar in the back, and a main seating area. Designed by popular Baltimore interior designer Patrick Sutton, its plentiful large windows, deep booths, glossy bamboo tables, and low lights in the evening make it an attractive venue day or night.
The space is long, narrow, and acoustically "live." On weekend nights, a DJ spins house music in the lounge. In keeping with the restaurant's style, its management sought a modern, first-class sound system that could support the music without overwhelming patrons' conversations or distracting from the decor.
Working with legendary Chuck Levin's Washington Music Center and systems integrator (and DJ) Mike Denoe, they chose a Fulcrum Acoustic PA. Five Fulcrum Prophile model S dual eight-inch coaxial loudspeakers handle the main space. Compact and low profile, the Prophile S three-way, active system features Fulcrum's advanced, DSP-enhanced coaxial design, which enables very wide (100° x 100°) dispersion. Its low-frequency transducer delivers impressive mid-bass impact for its size. The loudspeaker's horizontal orientation and trapezoidal shape allow it to be positioned in a variety of locations, including extremely close to ceilings, while remaining visually unobtrusive-perfect for an intimate restaurant like Azumi Sushi.
To support the DJ booth, Mike installed one Fulcrum Prophile model M dual 12-inch coaxial loudspeaker. Less than 40cm tall, the Prophile M is a three-way, active coaxial system that delivers maximum mid-bass for plenty of visceral impact. The M's conical horn provides 75° x 75° dispersion, making it particularly well suited for near-field applications such as Azumi Sushi's lounge.
"The Fulcrum Acoustic system turned out great," Mike equalled. "I was blown away with how clean and even it sounds. The Prophile M's dual 12-inch speakers sound phenomenal in the room at any volume, even when you turn it way up." The restaurant's management is more than pleased, he related. "They rave over how clean it is and how it sounds. They're building another restaurant on top of the Ritz Carlton hotel, and they want Fulcrum Acoustic loudspeakers for that install as well. That says it all."