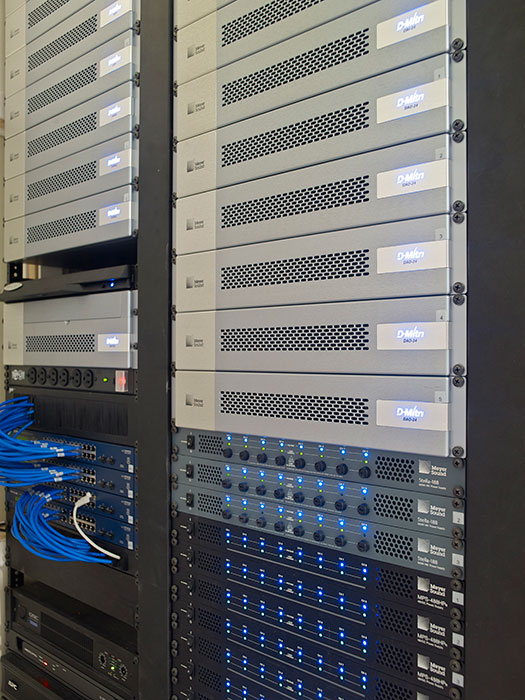 Known for decades as an artistic innovator, Berkeley Repertory Theatre now becomes a world-leading innovator in theatrical technologies with the recent installation of a Meyer Sound Constellation acoustic system. When it reopens for its first production, the renovated Peet's Theatre will be the first venue designed principally for dramatic presentations in North America to provide audiences with the sonic advantages of Constellation.
Constellation instantly transforms the acoustics of a performance space, enabling a venue to enfold audiences in a host of different ambient sonic characteristics. Constellation's ability to  provide an optimum balance of late reverberant sounds for musical performances makes it invaluable for multipurpose halls such as UC Berkeley's Zellerbach Hall or Jazz at Lincoln Center's Appel Room, but the technology is proving increasingly popular in solving noise problems in restaurant settings, cavernous open office plans, and lecture halls.
According to Peter Dean, Production Manager at Berkeley Rep, constellation's enhanced intelligibility will allow greater freedom for Directors and Actors to block and play scenes. "This is a 270° thrust stage, which means that actors are directly facing only a third of the audience at any given time," Peter said. "Without Constellation, the actor has to be acutely aware of projecting out to the audience. We're now eliminating some of that complexity, which makes it easier for the actor to react to the emotions in the scene."
James Ballen, Berkeley Rep's sound supervisor, expects that Constellation will also benefit older patrons with marginal hearing loss. "We will still offer the mandated ALS systems, but with Constellation's enhanced intelligibility, some patrons with borderline problems may find they no longer need to wear headsets."
Constellation will be pre-loaded with a number of presets for different acoustical environments, with others custom programmable for each production. "Even though you are sitting in a relatively small, enclosed room, we can make it sound like a castle or concert hall," said Peter.
Constellation's loudspeakers can also double as a sophisticated surround sound system. "This will revolutionise the way we think of sound design in drama for regional theatre," said James. "With the comprehensive loudspeaker coverage provided by Constellation, the possibilities are practically limitless."
Developed following decades of research into exceptional listening spaces, Constellation employs a combination of patented algorithms, advanced digital processing, and miniature transducer technology to replace cumbersome mechanical methods for variable acoustics. Constellation systems are in use at performance venues throughout the world, including the San Francisco Symphony's SoundBox, Finland's Logomo Hall, Norway's Fosnavåg Konserthus, and Estonia's Nordea Concert Hall. Systems are also currently being installed in the newly redesigned San Francisco Museum of Modern Art and San Francisco Opera's Wilsey Centre.
Constellation's unique voice lift capabilities have been successfully applied in a number of corporate and university conferencing and teaching applications, including Louisiana State University, Jyske Bank headquarters in Denmark, and Enbridge in Calgary, Canada. Cala, named the Bay Area's best new restaurant of 2015 by the San Francisco Chronicle, is the latest in a series of eateries using Constellation to create an optimized aural environment for diners with the desired level of buzz.
Constellation in Peet's Theatre is a dual-zone system dedicated to both enhancing early reflections from actors on stage and creating reverberation characteristics appropriate for any production. Digital processing is hosted by the D-Mitri digital audio platform, which hosts the patented VRAS acoustical algorithm. This works in conjunction with 24 microphones and 23 HMS-5 surround loudspeakers, 11 MM-4XP and six MM-4XPD self-powered loudspeakers, 18 UP-4XP and 12 UP-JuniorXP VariO Loudspeakers, and eight UMS-1XP subwoofers. Once programmed, Constellation's acoustical environments can be changed instantly with the push of a touchscreen button. When required, direct sound reinforcement is supplied by a separate system of six Meyer Sound loudspeakers suspended over the stage.
Founded in 1979 by husband-and-wife team John and Helen Meyer, Meyer Sound designs and manufactures sound solutions that are universally acclaimed as the gold standard in the professional audio industry and renowned for their accuracy and precision. The company holds more than 40 patents for a range of innovative technologies and products, and is praised not only for its audio engineering, design, and manufacturing process but also for its dedication to acoustic research. Meyer Sound designs and manufactures its systems at its Berkeley, Calif. headquarters.