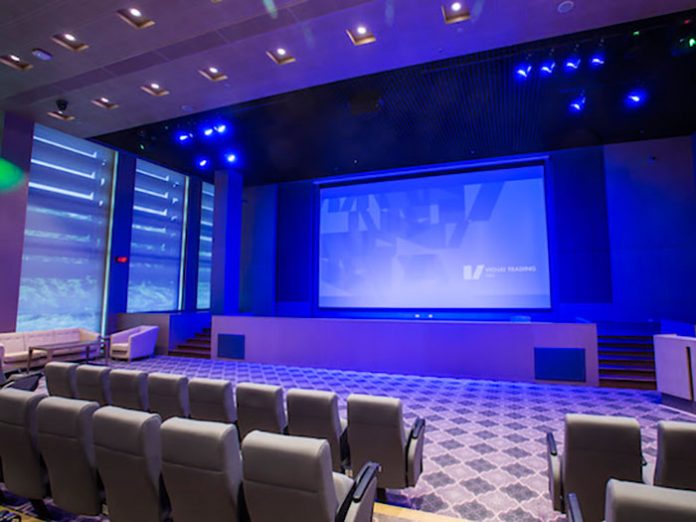 Bank of Thailand's headquarters in Bangkok has recently undergone a major technology refit and renovation, incorporating integrated AV and IT systems designed and implemented by systems integrators Vichai Trading 1983.
Originally constructed 40 years ago, the building's communications infrastructure has been completely updated from the days of teletypes, typewriters, and paper, with Vichai Trading 1983 installing state-of-the-art projection and conferencing systems, AVB networking, and updated audio systems.
One of the facility's busiest venues is a 252-seat multi-functional auditorium. Used to host seminars, presentations, live performances, and cinema screenings, the room is equipped with a concealed L-C-R audio system comprising Renkus-Heinz IC Live digitally steered column array loudspeakers, augmented by dual CF18S subwoofers. As Vichai Trading 1983 Managing Director Thaweesak Thamsirisup explained, the room's challenging architectural character made Iconyx steered-beam technology an obvious choice.
"The auditorium has high reflectivity by design," said Thaweesak. "A number of different materials are used in the space, creating a very live environment. This is good for performances and cinema presentations, but somewhat problematic for spoken word presentations. Because of this, we chose the IC Live system, to increase the clarity of the speaker's voice."
Four TRX82H compact loudspeakers are deployed on the compact stage as monitors during live performances. For cinema presentations, 12 wall-mounted SGX-61 loudspeakers, powered by Lab.gruppen amplification, provide surround sound capability.
Thaweesak reported that the system has exceeded expectations. "The customer is very pleased with the sound of the IC Live system," he said. "Now they finally have a state-of-the-art system that can deliver in any situation, at the touch of a screen."