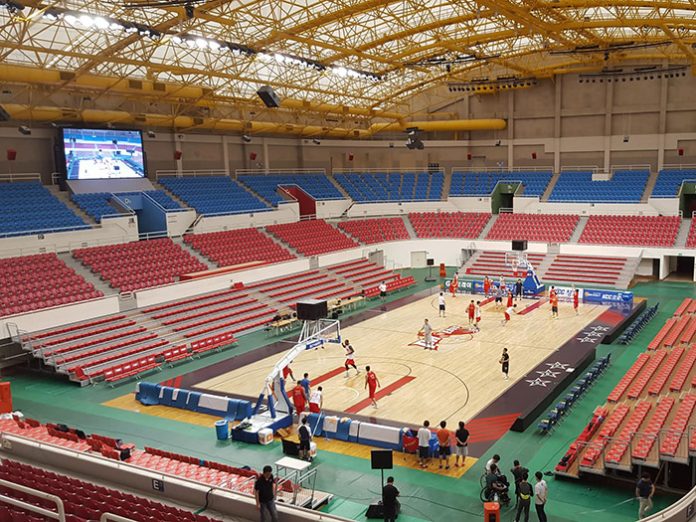 Dongchun Gym, the home of Ulsan Mobis Phoebus pro basketball team, updated its sound system with the new HFA series from NEXT-proaudio.
Located in Ulsan City, Dongchun Gym opened in 2000 as an indoor sports events and multi-purpose centre. The capacity is 5,500 seat, two-story building with two basement floors. Unlike other gyms, its roof consists of light fabric materials for natural lighting.
Ulsan Mobis team as subsidiary company belongs to Hyundai Motors, and is six-time champion including three consecutive seasons from 2013 to 2015 champion. In addition, pro basketball is very popular in Korea and is one of three major sports including pro baseball and pro football.
The new system had to meet number of criteria. "Top of the list was high-fidelity sound accepted by audiences and the team," said Tom Jung, Executive Director of Avix Tech. "And, the sound system design had to improve much more than former sound systems which the team used in the past."
There were some limitations to design and install the systems. First, Avix Tech had to place 20 main speakers in front of the second floor rear wall. Within the limited places for the main speakers, they configured 20 NEXT-proaudio HFA115 powered speakers on the second floor. HFA series have total 1650W RMS output power, and 127.5dB SPL. They have a good directivity and networkable DSP built-in. The second challenge was that the sound systems are not the permanent installation. After the season off, they need to remove the systems, and re-install before next season begins.
Mobis team also requested four-point speaker and subwoofer on the court. Avix tech has combined HFA115 powered speaker and HFA118sHP subwoofer on each point.
As the Mobis requested, the manufacturer has produced a custom colour specially for this installation. So, all speakers have been painted the same colour as MOBIS team colour. "The paining was very well, and the colour coordinates with the team. Of course, the sound quality improved too much, much better than the systems in the past. It couldn't be better in this space." said Jerry Lee, General Manager of Ulsan Mobis sports team.