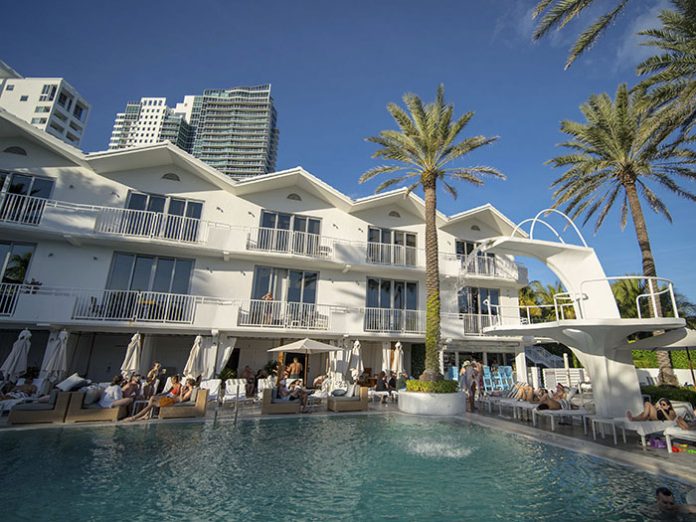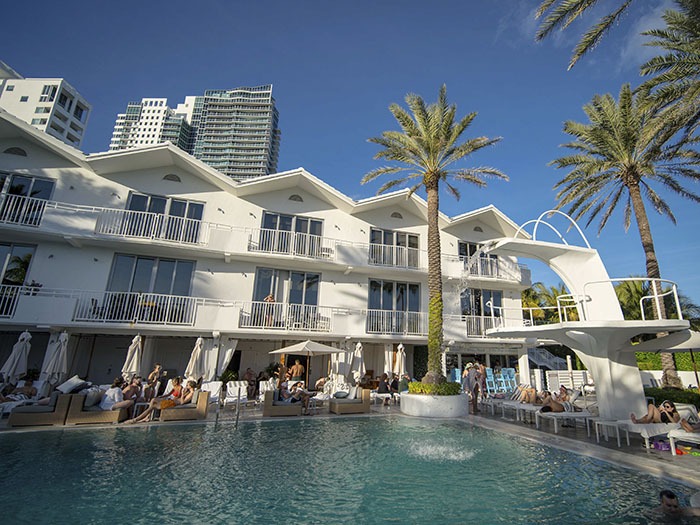 Audio Video Lighting Innovations (AVLI) has upgraded the pool deck sound systems for two Miami Beach luxury hotels, the Mondrian South Beach and Shelborne South Beach, with Martin Audio CDD systems.
Discussing the projects, AVLI's James Reed reported: "With the Mondrian South Beach pool deck, which faces the bay, we had to solve the problem of noise reflecting off nearby neighbouring residences. The hotel's original sound system was somewhat underpowered and they were getting a lot of noise complaints from neighbours because the DJ would take a speaker and try to blast it across the pool, which caused all kinds of problems.
"So they called us in to solve the offsite noise problem, which we did very effectively by installing 10 CDD10-WR's per side on the column system encircling the pool that supports the awning. We positioned each speaker on a column above a decorative planter about six feet above the ground, facing each other in a half moon shape all the way around the pool."
According to James, programme material for the system consists of "lounge type music from a server earlier in the day and a DJ with a blend of Hip Hop and House music every evening and some successful parties on the weekends.
"CDD works great for this application because of the wide dispersion and coverage that provides a really seamless spread of sound across the pool deck—and we've managed to elevate the audio level at the pool while containing the sound. The client is absolutely happy with the CDD system because they're not getting complaints or code violations because of noise and they love the system's sound quality, coverage and control."
In terms of the iconic Art Deco Shelborne South Beach, the AVLI pool deck renovation involved an upgrade to replace a six-year-old system that had deteriorated because of the salt air from the oceanside location.
As James pointed out: "We designed a system that would allow the hotel to have elevated audio without renting additional equipment. The system consists of 14 CDD8-WR's mounted around a long rectangular pool with cabanas on the north side and lounge chairs and a wall on the south side with seven speakers per side that mirror each other across the pool deck.
"They're column-mounted on the cabana side and wall-mounted about three feet up on the facing wall. We also added six Martin Audio CSX112-WR subs next to the lounge chairs on the wall side that offer just enough to fill in the sound for the pool area, with very clean and tight lower frequency reproduction. The hotel uses a music server with lounge music during the week and brings DJs with higher SPL's on the weekends.
"CDD excels at this site because the weatherised portion has been really holding up well and it's a very clean-sounding system with plenty of headroom. We know the client loves the system because they haven't called with any problems or complaints."