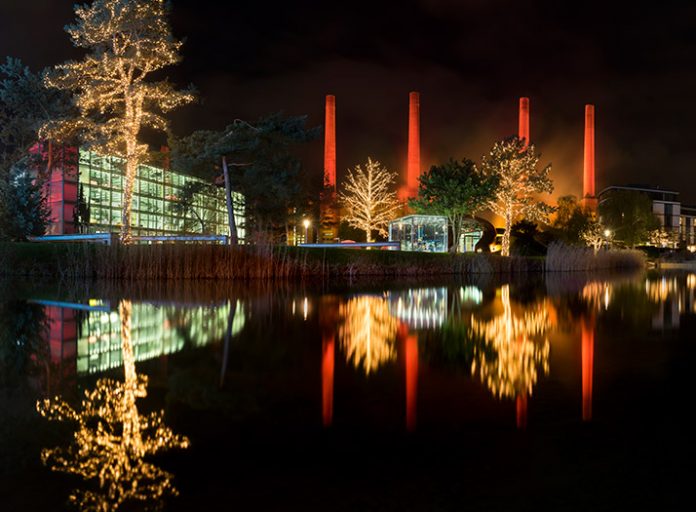 This is now the 15 year in succession, that the Autostadt Wolfsburg has transformed its theme park during Advent into a winter wonderland. The magical set is dominated this year, as always, by the historic chimneys, bathed in red light to look like giant candles.
This year, the Autostadt has scaled new heights, not only with the overall concept of the Winter Wonderland but with its illumination, making use here, for the first time, of A&O Technology's sustainable plasma technology, to light up the iconic chimneys. "We are going beyond architectural lighting to venture into new markets and will be presenting some amazing new products at the Light+Building," said Marco Niedermeier, A&O Technology's CEO.
The lighting specialist has been responsible for the winter illumination of the chimneys now for 15 years, but has come up with a first this year. For the first time, the innovative products of the Falcon Spelia Arc series are being exposed to sustained use. "In pursuit of an efficient, environmentally friendly and economical lighting strategy, we had already tried lighting solutions ranging from LED to xenon," said Christian Kiel, Director TEM, the Autostadt's Events Management Technical Director.
"For the illumination of the chimneys, however, the innovative Spelia technology from A&O Technology proved clearly superior. Spelia convinced us with its massive luminosity. The lamps could be adjusted precisely to our requirements, allowing us to achieve a homogeneous illumination using relatively few devices. We are really enthusiastic about the results, which we are presenting for the first time ever at this year's Winter Wonderland."
The searchlights employ sulphur-plasma technology. With their optimal lumen-to-watt ratio and above-average working life of up to 50,000 operating hours, they constitute an ideal solution for architectural applications. The continuous light spectrum of the Splelia plasma searchlights, which come closer to sunlight than any other artificial light source, has been modified here in terms of colour tone using special dichroic filters to achieve the red hue typical of Christmas lighting. With 48 plasma searchlights in all realising an even 360° illumination, the 128-metre towers are being bathed this year in a deep red. Each Sunday in advent, a new candle is being lit, until by the fourth Sunday, all four chimneys will be lighting visitors the way to 2016.