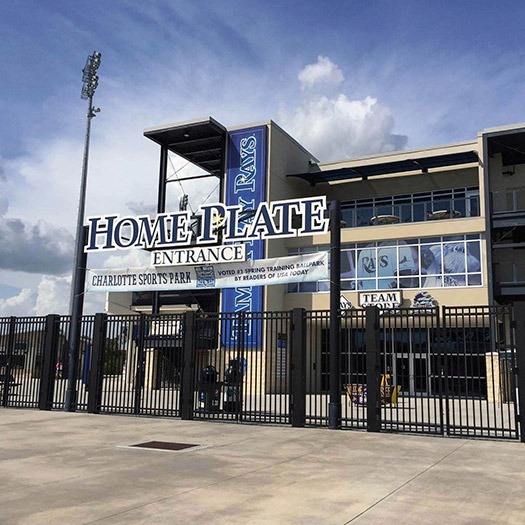 In 2014, Charlotte Sports Park earned first place in USA Today's Readers' Choice Awards, for Best Spring Training Facility, an honour it owes in large part to a, $27 million renovation in 2009, that gave the park every accommodation for which a baseball fan could hope. In an effort to further enhance the amenities of this facility, local audio visual integration firm DB Sound Systems of Punta Gorda, Florida along with Crossman Electrical Services, stepped in before the 2015 spring training season with a new sound reinforcement system centred on Ashly Audio processing, amplification, and user control, along with distributed community loudspeakers. During the regular season, the new sound system will support the minor league Charlotte Stone Crabs.
Inputs to the new system include, Shure wired and wireless microphones and a Denon CD/MP3 player. A powerful Ashly ne24.24M Protea modular digital matrix processor outfitted with eight inputs and 16 outputs provides customised processing for the loudspeaker and assisted-listening zones, a record output, and a remote output. Three 4-channel 1500W Ashly nXe 1.54 network amplifiers power the loudspeakers. Don Brown, Owner of DB Sound Systems, made good use of their programmable outputs: 10 channels operate at 70 volts for 18 Community R.5COAX99 loudspeakers, 16 Community R.25-94 loudspeakers, and 16 Community R.5.94 loudspeakers, whereas two channels operate at four ohms for a pair of long-throw Community R2-52 loudspeakers. A Lowell Pivoting Pedestal wall rack allows easy wiring and service, and Furman sequencing and power conditioning provides turnkey operation.
Don originally envisioned placing the three Ashly nXe 1.54 amplifiers far from the announcer's booth, but once he hooked them up, he revised that plan. "The Ashly amps are so efficient that even at full stand volume, the noise from the amps was below that of the air conditioning in the announcers booth. That allowed us to put the rack in the booth for the convenience of the operator. Because they leave the system on outside of normal use, the fact that the Ashly amps revert to a power-saving mode was a huge benefit. Really, right out of the box, the amps seemed tailor made for this installation."
The park has received a lot of positive feedback from its fans, and some of it went directly to DB Sound Systems. "One of the nicest compliments we received came from two older ladies on the first day the new system was up and running. They had season passes and had been to every game since the renovation a few years ago. They sought us out way up on the third deck and asked, 'are you responsible for the new sound system?' I was a little reluctant, thinking we were going to get chewed out for something, but it was the exact opposite. They wanted to shake our hands because they had been able to clearly hear every single word of the announcements. All in all, Charlotte Sports Park is one of the best installations I've done in my 40 years of working in professional sound. Everyone involved had a smile on their face." Don concluded.