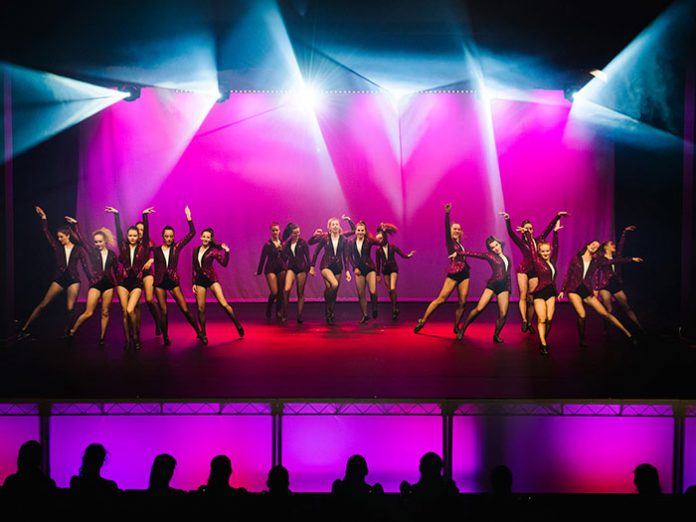 Ravenswood School for Girls has brought a new level of production to its performing arts theatre by adding a collection of Chauvet Professional fixtures to its rig for two recent shows: Grease The Musical, and Ravenswood Presents.
Supplied by Showtools International, the Ovation C-640FC, Rogue R1 Spot and Rogue R2 Wash were instrumental in creating powerful looks for both performances. These fixtures worked in tandem with Chauvet Professional products that were already on the school's permanent theatrical rig, including the Legend 412Z, ColorDash Batten-Quad 6 and ColorDash Batten-Hex 8.
Theatre Technician Jason Grimsted, who worked with colleague Conor Fitzpatrick on the upgrade, explained why the school made this move. "With over 80 students from years 7-12 on stage during Grease the Musical, the school required an appropriate selection of lighting fixtures to award the productions with a huge presence. The Chauvet fixtures allowed us to create some memorable performances for this large-scale production."
Positioned on overhead truss and on the stage deck, the Rogue fixtures performed a variety of functions in both of the school's stellar productions.  The R1 Spots were used for spot-lighting the various singers on stage and providing atmospheric aerial effects.
"We have been particularly impressed with the brightness and gobo selections of the R1 Spots," said Fitzpatrick. "We're also impressed by the strong and vibrant colours of the fixtures, not to mention the fact that both 3- and 5-pin connectors, along with the powerCon connections, come as standard."
Grimsted and Fitzpatrick selected the Rogue R2 Wash specifically for its ability to provide saturated wash lighting to induce a whole manner of theatrical atmospheres. The saturated wash colours produced by this fixture allow the school to create a strong atmosphere on stage, which works in counterpoint and in combination with R1 Spot fixtures.
The Ovation C-640FC fixtures were also specified especially for the shows to provide classic cyclorama lighting looks at the back of the stage.  "As the Ovation's Virtual Color Wheel (VCW) gives instant access to countless classic colours, we were able to shape entire scenes thanks to the wall of light produced by these fixtures," commented Grimsted. "The school also really appreciates the fact that the LED light source will reduce energy costs while still providing a stunning theatrical backdrop."
Thanks to the impressive array of Chauvet Professional fixtures, both productions were given a professional and dynamic touch, leaving an unforgettable moment for the audiences that attended the respective shows. "The Chauvet fixtures have been a fantastic addition to our inventory, complementing the existing stock of static Fresnels and profiles," concluded Fitzpatrick. "We're pleased that these school productions can now offer the kind of visual support one would normally expect from a much larger theatre."