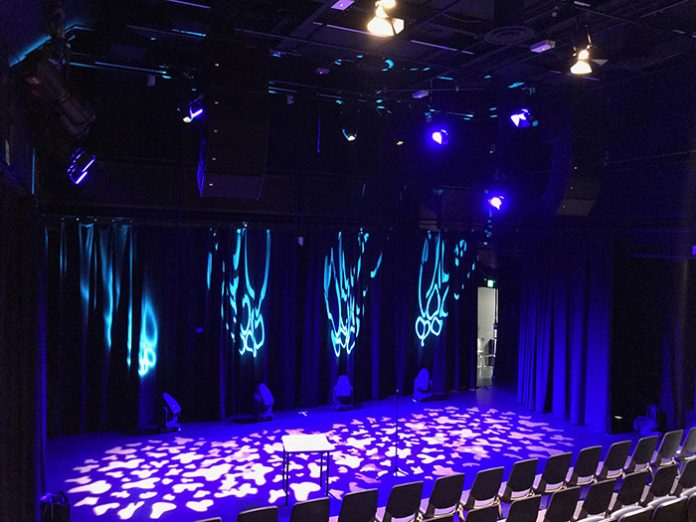 Supporting the wide variety of productions at the school's 200-seat theatre auditorium is a carefully planned LED lighting rig that features a large collection of Chauvet Professional fixtures installed by MDR Sound and Lighting, including 12 Ovation F-915FC Fresnel, 12 Ovation F-165WW, 10 Ovation E-910FC LED and 10 Maverick MK2 Spot fixtures.
"The Ovation F-915FC is a remarkable LED Fresnel," commented James Kearney, Technical Manager of Te Auaha. "One of the most impressive features is its ability to reproduce true theatre colours with near perfect CRI – astonishing, considering the fact that the LED source has none of the drawbacks of traditional tungsten Fresnels."
The Chauvet Professional Ovation LED fixtures, are able to match the output of traditional tungsten fixtures to perfection.
"The Ovation fixtures really stand out in the new theatre," continued James. "The warm white tones of the F-165WW Fresnel and Ovation E-910FC Full Colour LED profiles to provide us with an exceptionally versatile rig that is a fit for any purpose."
In addition to the solid visual framework created by the Chauvet Professional Ovation fixtures, MDR specified 10 Maverick MK2 Spot fixtures to provide the theatre with the tools to create the necessary punch and eye candy during performances.
"We are also loving our Maverick MK2 moving profiles and would be hard-pressed to find another fixture we would rather have," continued Kearney.
Drawing on the powerful 440W source and precision engineered optics, CMY + CTO colour mixing, two 6-position rotating slot and lock gobo wheels and 13º – 37º zoom range, MDR Sound and Lighting uses the Mavericks to provide a platform upon which varied and challenging atmospheres can be crafted.
"The LED light source has heaps of intensity – even through the CMY wheel or the CTO wheel, which does a better job of warming the beam up than any discharge fixture I've worked with," commented Kearney. "The gobo wheels with framing shutters are really great features and make the Maverick the ideal fixture for our venues."
A recent string of performances by New Zealand visual dance company Muscle Mouth provided testament to the convincing ability of the Mavericks. "After Muscle Mouth developed their latest show in our theatre with the MK2 Spot last month, they decided to take two on the road with them around New Zealand," said Kearney.
As a result of the Chauvet Professional installation in Te Auaha, the venue is equipped to deal with any kind of performance, show or live situation, and thus succeeds in putting the student's creativity at the forefront of its agenda.
"The technical team at Te Auaha and the students couldn't be happier with the installation," concluded Kearney. "We'd also like to extend our thanks to the fantastic team at MDR for specifying the Ovation and Maverick fixtures."