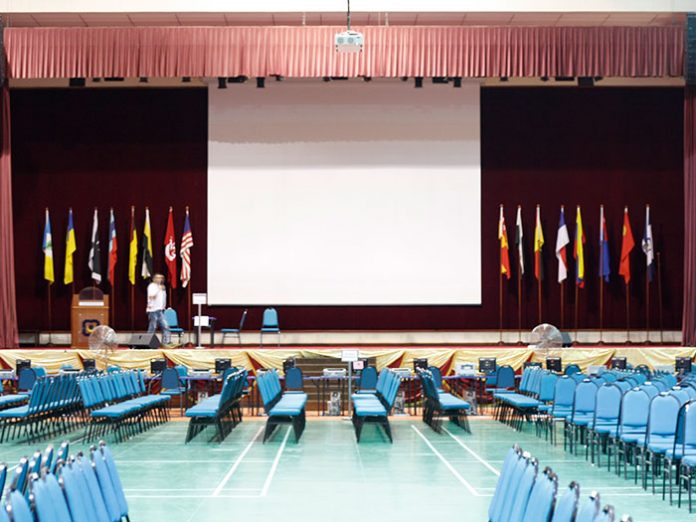 International Islamic University College Selangor (KUIS) has endured years of rundown sound systems for the college's Convocation Hall, so they were ready to spend big on a new sound system, but only a high quality system would be considered. Therefore, an AVEM with a strong project reference within its system for the hall was key to the success of this project.
Local contractor, M Standard Enterprise and Malaysian Distributor, AV Electronics Marketing (AVEM) proposed full Audiocenter solution to KUIS.
For a Convocation Hall with the length of 50 metres, width of 30 metres and height of 15 metres, the challenges that faced the distribution team was the evenness of SPL across the hall, and the highly reverberate wall and floor. As a result, a K-LA28 line array system was proposed and installed into the venue.
Reverberation was physically reduced to minimum by aiming the system to the audiences. The 20-degree vertical dispersion proved to be an effective control of the directivity of sound – thus lowering any unnecessary reverb. Meanwhile, the 100-degree horizontal dispersion is useful to create the evenness of SPL across the hall.
A total of eight K-LA28 units were installed for the hall. The lowest possible frequency for K-LA28 is 60 Hz for the completion of the frequency spectrum; two units of K-LA815B were installed to provide extension of frequencies to 48 Hz. The K-LA28 and K-LA815B are driven with three units of PRO9.0 and at the heart; Proel PC-260 provides the speaker management.
Each element of the array is specially tuned accordingly to the space with the help of industry standard SMAART 8 measurement software. The result is a fairly linear, resonance free and provides minimised reverberation.
On stage, 2 units of Audiocenter PF12+ are employed and even with its rotatable horn feature, it easily positioned in wedge without sacrificing on the horizontal dispersion. To make the quality audio beyond the hall, six units of PF6+ were installed all around the corridor besides the hall. The size maybe small, but the design elegantly fits into the modern Islam architecture. Audiocenter VA401 powers the PF6+.
During the testing and commission session, it was considered an honour to have the sound system checked by the ex-students of KUIS who are now a famous band in Malaysia. Only recently, the band, Projector Band, sat on top of ERA FM music chart with their song "Sudah Ku Tahu." The members of Projector Band gave their praises for the system especially on its clarity.
MrYazid, sound engineer of KUIS commented: "I am impressed with the Audiocenter performance. At first, I had my doubts, but after double-checking with two venue owners, who currently own Audiocenter system, I am now full of confidence as both gave thumbs up for Audiocenter."