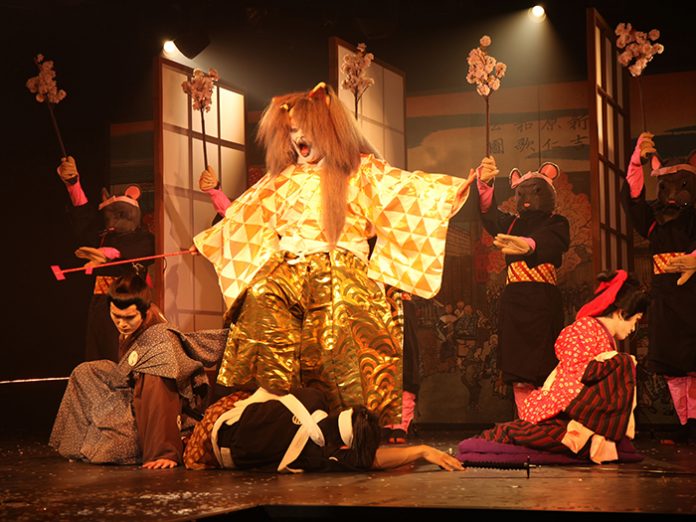 It's impossible to walk through the prefecture of Gion and not be swept up in its vibrant pace of life. The most celebrated geisha district in a city that is itself the cultural heart of Japan, the neighbourhood is renowned for its world-class dining and entertainment attractions.
Both of these offerings are found in the Kyoto Sushi Theater, a lively venue that serves up a culinary and artistic feast for its customers by providing delicious food choices and captivating theatrical performances. Creating a colourful and engaging backdrop for this dual experience is an Andy Hinago-designed light show that features a collection of Chauvet Professional fixtures, supplied by PRG Japan.
Given that the "theatre side" of Kyoto Sushi Theater features not only traditional Kabuki but also more modern, western-style Shingeki performances, Andy (who owns GOTTA, Inc.) placed an emphasis on versatility when putting together his rig for the venue. This led him to place the Maverick MK Pyxis at the top of his gear list.
"Typically, I start building my rig by selecting washes, but when I saw the Pyxis, I knew I had to have it," said Andy, who installed 15 of the unique moving fixtures at the theater. "Pyxis was first because of all I could do with it. The outer ring of pixels and centre pixel offer so many options. Plus, it has continuous pan and tilt, built-in colour macros, gobos with vibrant, punchy colours, so it opens a lot of options."
In addition to its Pyxis units, the theater rig features three Rogue R1 FX-B fixtures. "The Rogue R1 FX-Bs are very flexible and work well with the Pyxis, allowing me to create a wide variety of looks," said Andy. "I have one FX-B placed horizontally in the front of the stage, and two hung vertically on either side. Being able to use the FX-Bs as a multiple sidelight allows me to cover five positions with one fixture, providing the impact of numerous fixtures, while taking up much less space."
A collection of 21 Maverick MK2 Profile and 21 Maverick MK2 Wash fixtures is also included in the rig. Andy selected these fixtures for their versatility and output. "The MK2 Profiles have a great zoom feature, which made them an ideal choice," said Andy. "With an average distance of only 6' between the lights and the actors, being able to create the type of focus needed is a necessity. The MK2s also have a great gobo selection, which allows me to get really creative and mix colours with just the right amount of lux output. The MK2 Wash offers the same great colour palette, at just the right size and output for what was needed."
For special effects, Andy added a Vesuvio II fogger to his rig. "This is a fantastic fixture," said Hinago. "It can produce 40,000 cubic feet of fog per minute, with even, colour-saturated coverage from its LEDs. It's also versatile enough to create evocative atmospheres for both Kabuki and Shingeki performances."
Looking beyond the performance features of his rig's fixtures, Hinago also selected them for their efficiency. "Having a limited amount of power dedicated to lighting, I knew LEDs were the best choice and would allow me to incorporate the number of fixtures I needed to maximize the design," he said. "I also had to be cognizant of the space within the theater to place the fixtures, so their compact size was important."
In the popular Gion district, with its high real estate values, space is at a premium. On the other hand, given the area's popularity, venues that operate within its boundaries have to offer premium entertainment. Happily, for Kyoto Sushi Theater, its new lighting rig helps it address both issues.