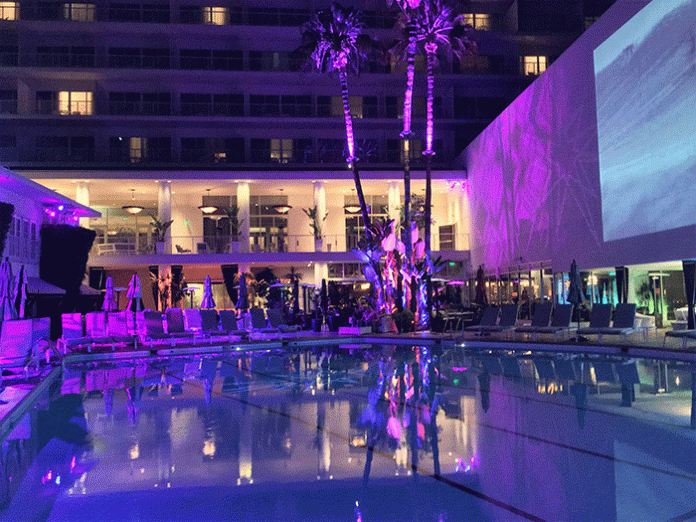 Times, tastes and celebrities may change, but the grandiose Beverly Hilton has continuously embodied chic California cool since it opened in 1955. From Marilyn to Madonna and on to Miley and Pink, the rich, famous and beautiful have congregated at this swank spot, earning it the moniker the place to see and be seen. Much of this seeing takes place at the hotel's AquaStar Pool, where A-Listers fresh from the Golden Globe Awards, Oscar Nominees Luncheon or one of the 100 or so other red carpet events held here annually frequently gather to mingle. Now the famous pool deck has become even more dazzling, thanks to a collection of CHAUVET Professional and ILUMINARC fixtures installed by AMP'D Entertainment.
The new lighting system is intended to give the iconic pool deck an updated, vibrant look. Given the variety of top drawer functions that take place at the pool, flexibility (along with a generous serving of colour) were the key factors in selecting the fixtures used.
Arteen Kharrat, owner of AMP'D Entertainment, who served as the designer and lead installer on the project commented: "There are many colour schemes that we are running on an annual day-clock control system, as well as schemes that will be accessible via local manual overrides or via a custom web interface accessible via any web enabled device. Colour was a major factor in this modernisation. However our main goal was to make the pool deck more organic and flexible without bringing in additional equipment."
Explaining why flexibility was an extremely important factor in this design, Arteen commented further: "The pool deck is a major part of the hotel, with literally hundreds of events on it each year. The pool is the only hotel-owned Olympic sized pool in Los Angeles. There is a restaurant adjacent to the pool deck that serves three meals a day, and a very lively bar and evening scene down there as well. Also, there is a breezeway that overlooks the pool area that is utilised nightly as a pre-function and post-function space for the hotel's world-renowned International Ballroom (IBR), which many across the globe know as the 'home' to the annual Golden Globes. So overall this was all about creating a wide range of options and being organic so we could light the space nightly per the requirements of the occasion."
Arteen and his team achieved this goal by drawing on the versatility and colour rendering capabilities of the Ovation E910-FC color mixing ERS-style fixture and Colorist Pod 7Qa RGBA fixture. A collection of 22 Ovation E910-FC units and 24 Colorist fixtures were installed around the pool deck under an overhang for protection from the elements, but above eight existing 17' tall hedge walls.
Arteen with his team also set the Ovation and Colorist fixtures in place with custom offset mounts to an aluminum framing that the hedges grow against. These positions were chosen because there were existing incandescent ellipsoidals already in place there; the Ovation and Colorist units were mostly updated replacements of them. The previous fixtures were used to lay nothing but texture on the pool deck. Now with the new fixtures, the team were able to have soft washes in conjunction with gobo textures, so to create more versatile and stylish looks.
In addition to the fixtures installed around the pool deck, 16 Colorist Pod 7Qa units were mounted in a large tropical planter that is used to provide privacy for the poolside restaurant. Another nine Colorist fixtures were mounted near the tops of three very tall palm trees to lend added pop to the pool design.
The system is controlled via an Interactive Technologies Cue Server Pro CS-900. This allows day-by-day time-clock control and many universes of control via ACN, utilised extensively across the property.
Arteen stated his company's client has an iPad App controller for custom colour schemes used for events. For larger more involved events, a team can come in with moving lights and other supplemental equipment and patch-in via DMX or CAN into the system.
Seamlessly designed, the new Beverly Hilton pool lighting system seems to blend naturally with its stylish surroundings. However, as is invariably the case with such smooth free-flowing designs, this project was not without its trying moments.
The biggest challenge faced was to find an articulating boom lift that could fit between a 3'9" corridor to install the palm tree fixtures. There are only three entryway points to the pool deck, two of which were cost prohibitive, leaving the 3'9" corridor as our only option. After weeks of searching and dozens of phone calls, Arteen's assistant, Nicole Marcario, was able to find such an aerial work platform. It turns out there are only two such lift models in existence; only 2 units are available for rent west of the Mississippi. The install team consisted of Aleksandrs Jakovickis, Jairo Ayala, Luis Monroy, Roger Hicks, Seth Posner, Yusef Ghafur and System Programmer Jared Kleier, who according to Arteen went above and beyond throughout the project.
In the end, this effort paid off with a poolside lighting system that is not only stunningly beautiful, but will also save the hotel money. It is estimated that the Beverly Hilton will be saving approximately $7,500 in lamp changes and maintenance annually by switching from incandescent to LED fixtures. Then there is also the affordable price of the Chauvet and ILUMINARC fixtures themselves, as well as priceless ability to now have the flexibility of transforming the spaces colour scheme at a moment's notice.
Arteen and his team did a side-by-side shootout with the Ovation E910-FC and its big name competitor, and found they metred almost identically, but the Ovation was half the cost and designed with a significantly more intuitive menu structure. What occured then was a replacement of all existing rental stock with the new E910-FCs, and the crew/clients have been very.
In fact, Arteen credits the new Ovation fixture with helping the pool project get off the ground: "We have been taking care of the Beverly Hilton's lighting needs for a long time. There had been talk about updating the pool deck lighting system for some time, but cost was always an issue. When Chauvet approached me with their new E910-FCs, I knew right then that this was a project for them. I approached the hotel to let them know that finally there was a product that was priced right and built right to meet their needs. So we revised the design from two years earlier, got a little more serious about it, got the green light, and off we went. The time from approval to completion was only 21 days."