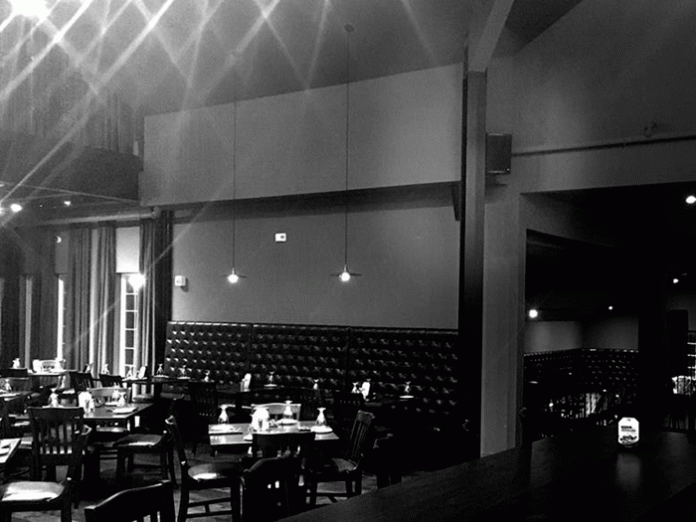 Harkening back to an era of dramatic social and political change, The SunnyBrook Ballroom is a storied music venue and dance hall rooted in the Roaring Twenties and is one of the few dance halls built in the pre-World War II era that is still in use. Gatsby's Restaurant, Bar & Lounge is part of the historic facility located in Pottstown, PA, combining a unique menu with craft cocktails and live entertainment. Recently the existing sound system was replaced with i-Class Superior Integrator Systems loudspeakers from VUE Audiotechnik, installed by Sonic Sound.
Jonathan Buchanan, Principal, Sonic Sound, LLC, chose six VUE i-8 Foreground Loudspeaker Systems and one VUE as-115 Single 15-inch Vented Subwoofer to cover the historic restaurant. The i-8 is part of VUE's i-Class Integrator Systems, providing a high-performance alternative to the inferior plastic box systems offered at its price point. All i-Class speakers feature high-density wood cabinets with an industrial-grade exterior coating for reduced resonance. The i-8 houses an eight-inch polypropylene woofer with a 1.5-inch voice coil, plus a one-inch silk dome tweeter with a Neodymium magnet structure. These drivers are mated to a high-quality crossover, resulting in a smooth frequency response from 60 Hz to 20 kHz, and a maximum long-term output of 111 dB SPL. The i-8's variable-position mounting hardware facilitated mounting the cabinets to the venue's structural steel supports.
Jonathan commented on the installation: "The renovation included removal of walls, installation of a new bar and new flooring, changes to the lighting design, and removal of the old DJ system. We considered speakers from another manufacturer but I guaranteed the owner of Gatsby's that VUE speakers would be the best he's ever heard in his life — and they are! Needless to say, the difference between the old system and the new VUE system is quite noticeable. We have put VUE speakers in a lot of places, but none where they are in use for 16 hours a day, 7 days a week!"
Frequency response of the system is extended in the low end through the addition of VUE's as-115 subwoofer, which employs a 15-inch low-frequency driver with a four-inch voice coil for high-power handling and reduced power compression. The LF transducer, in conjunction with a multiply, laminated birch bass-reflex cabinet generates usable LF response down to 38 Hz.
According to, the as-115's compact package helped solve one of the issues he faced during the installation process.
Jonathan continued with the following: "Finding a place for the subwoofer was the biggest challenge of the install. We ended up situating the as-115 in a loft/void space where it provides even coverage across the entire restaurant without being obtrusive. A Rane HAL processor sends various program sources through QSC amps to the VUE speakers.
"Live entertainment at Gatsby's includes piano players, phonograph players (they literally bring in phonograph players and somebody 'spins' records on them) and a lot of airtime from the Siriusly Sinatra station on SiriusXM. Every guest who 'plugs in' has been thrilled with the sound quality of the VUE system. One singer claimed that she sounded better in the VUE speakers than in her recordings. The owners of the facility love it, and customers have actually commented on the sound quality, which is pretty cool — how often do customers in a restaurant seek out a manager to say that the background music sounds good?"
https://www.dbaudio.com