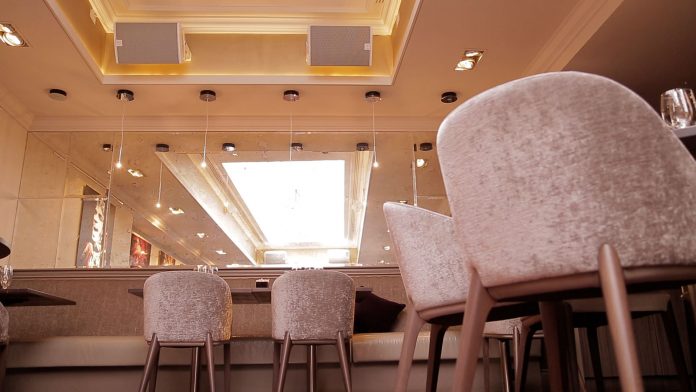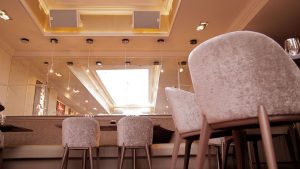 Old Barn Audio (OBA) has equipped a five-star sushi and fish restaurant in London's swanky Belgravia, populated by A-list celebrities, with Martin Audio's new CDD system, to meet its expanded business model.
Opened two years ago, Salmontini initially brought in OBA to fit a background music system following a referral. But as the business developed, managing director Jason Bassili responded to the demands of his upmarket clientele by requesting a full-blown live music system. Directors Phil Clark and Neil Kavanagh had no hesitation in which brand they would use, and the latter was soon on site specifying a potent CDD system.
CDD's innovative engineering, using patented Coaxial Differential Dispersion technology, which guarantees consistency of coverage, is matched by the general aesthetic of these distinctive curved enclosures.
"It was the logical decision for them," says Clark. "They were not only spending a large amount of money hiring in systems for their live and DJ nights but all the associated cabling was spoiling the aesthetic and making the deluxe restaurant look messy."
Surveying the six-zone layout, Kavanagh designated four CDD10 in each of the Orangery and lounge bar locations — flown from the walls and ceiling — with the full range sound in each area underpinned by a discreet floor-mounted CSX212 sub.
Since the venue is open from midday until 3am, Clark knew instinctively that one of the advantages of Martin Audio's latest install systems is that it will run at low level as a dedicated background music system and then effortlessly ramp up the volume after dark.
The different presets for each event are stored in a BSS Soundweb DSP, with touch screen controls enabling local source select and volume control. There are multiple iPod, CD and DJ inputs — with a separate input downstairs for those hiring the 26-cover private dining room.
Jason Bassili is certainly impressed. "I was blown away when I first heard the power of the Martin Audio sound system," he enthused. "And the esoteric look of the system is perfectly suited to a stylish venue such as Salmontini."