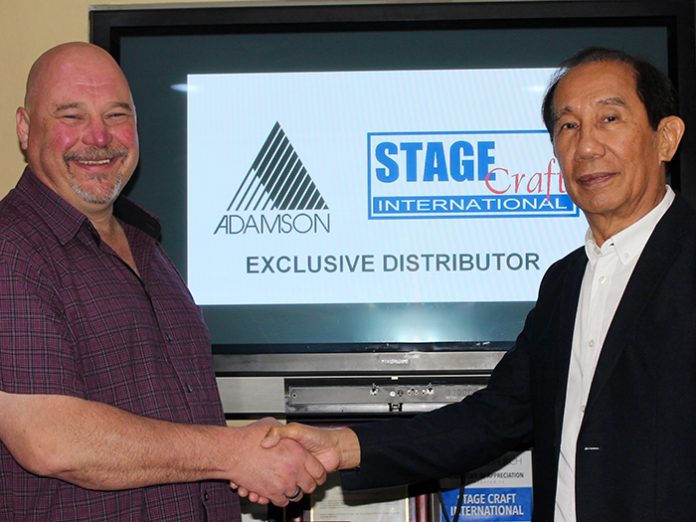 Stage Craft International has cemented its status as one of the top production technology distribution firms in the Philippines with the recent addition of Adamson Systems Engineering to its line card.
Based in Mandaluyong City, Stage Craft represents some of the world's top audio brands throughout the Philippines and built their reputation on the philosophy of delivering only premium, high-performance products for their customers. Marc Paraiso, the company's Head of Sales and Marketing, says that philosophy is what drove the decision to adopt the Adamson brand.
"While there is a plethora of loudspeaker manufacturers out there, with most of them represented in the Philippines, we feel Adamson has a big advantage in terms of technological advancement, making it a cut above the rest," Marc commented.
And he and his colleagues can attest to that first-hand. In addition to distributing a carefully curated selection of brands, Stage Craft also handles rentals and production services, systems integration, and after-sales service and support for a myriad of clients. Considering Adamson's focus on the end-user experience, Stage Craft's unique perspective makes for a mutually beneficial partnership.
"We love the idea of Adamson collaborating closely with its distribution and sales partners and end users in moving the brand and product offerings forward," Marc added. "We're definitely proud to be a part of the Adamson Systems Engineering family."
Adamson's Sales Manager for the Asia Pacific region, James Ritter, returns the sentiment. "We've been seeking the right partner for what we know is a very promising market for major growth," he said. "Stage Craft has already exceeded our expectations and we're proud to welcome them as the latest member of the Adamson global network. We'll be working closely with them to build up the Adamson brand in the Philippines and ensure that all of our users benefit from the support that both of our companies are known for."