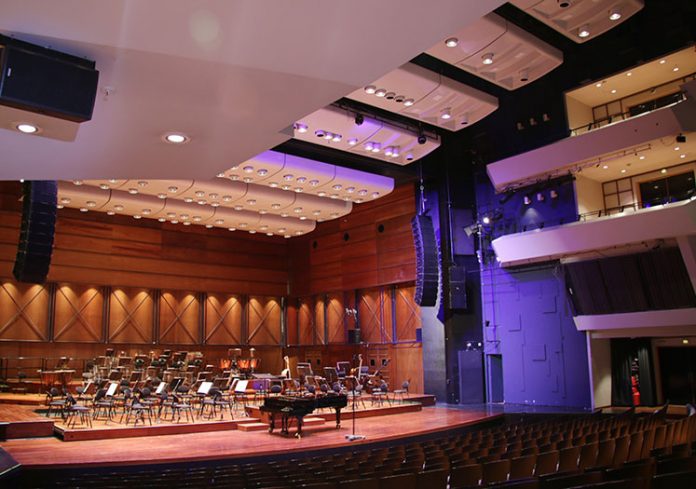 Trondheim's Olavshallen concert hall has upgraded its main hall with an Adamson S-Series sound reinforcement system.
The existing system for the venue was installed back in 1989 when the hall first opened. "We began researching systems two to three years ago," explained Stage Manager Henrik Torgersen. "During that time we listened to demonstrations of many different systems. Last June Ronald and Kenneth from Benum visited – along with Adamson's Jochen Sommer – to demonstrate the new Adamson S10 system and our search was finally over. It was easily the best system we had heard."
The layout of the almost 1,300 capacity hall is a challenge as the sloped main floor seating and two levels of sloped balcony seating, which wrap around all three walls. This requires a lot of vertical coverage, as Henrik wanted to reach every level with the main hangs. The new Adamson system consists of two line arrays, each made up of 14 S10 modules, hung to the left and right of the stage. A total of twelve S119 subwoofers were also utilised to reinforce low end.
In order to ensure even coverage for every seat in the house 10 Point 8 loudspeakers were distributed to cover the side, under-balcony seating areas. Eight Point Concentric 5 compact loudspeakers are deployed as lip fills. Their position and alignment with the main system varies, depending on whether the movable stage extension is raised or lowered to allow for even more seating in the hall.
"Henrik was very thorough with his search for the perfect system for the room," said Kenneth Vadset of Benum. "After much review he determined that the Adamson system would provide exactly what they need. We are delighted in the confidence they have shown in our company and are positive the Adamson system will exceed their expectations."
Henrik concluded, "Everyone who uses the system has nothing but good things to say and the feedback from the audience is the best we have had in several years. I am quite happy with the outcome; it was well worth the effort put forth to find the best system possible."