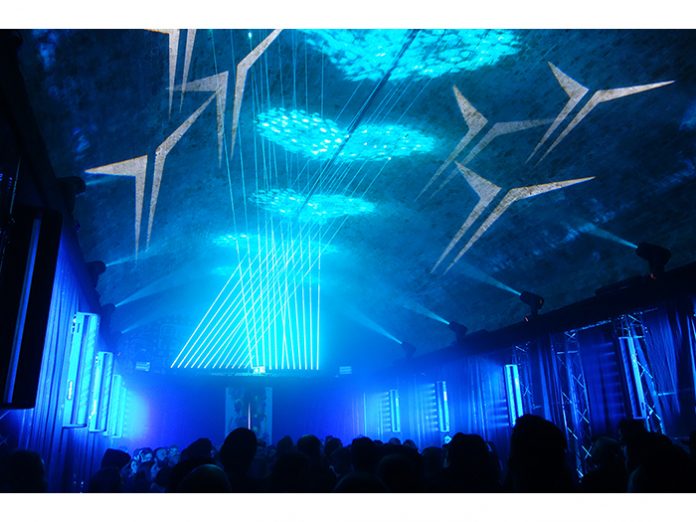 A.C. Entertainment Technologies (AC-ET) has supplied the new StageSmarts smartPDU power distribution system to Titan Reality for their first certified, fully immersive 3D audio venue experience in Europe.
The Aures club is located along Leake Street Tunnel under London's Waterloo station, which
features a giant mural of street art organised by renowned English street artist, Banksy. Aures provides a blank canvas event space within a seven-metre high exposed brick arch and over 2,000 square feet of floor space, which is perfect for product launches, photoshoots, presentations and corporate parties.
The venue recently launched the first phase of 'Sensorium', a truly ground-breaking immersive experience which will eventually encompass sound & light, taste, scent, sight, and touch, to create a five-sensory venue for the arts and events.
To deliver their creative vision, the team behind the Sensorium project opted for Titan Reality's ground-breaking Indream certified solutions and technologies for immersive venues. Titan Reality completed the development and perfected the first phase of the sensory technology with a revolutionary 3D sound experience for audio playback and live performance, intelligent show control combined with energetic lighting and lasers. The venue will become Indream certified once all phases will be completed.
With the PA system's 50 speakers and 30 amplifiers consuming 50,000 watts of power, plus Titan Reality's unique Indream 3D sound processing equipment and the lighting, Titan Reality CEO, Arny B. Arnold was looking to source a highly reliable and safe power distribution solution.
He commented: "The Indream immersive system from Titan Reality is designed for smart immersive venues running 24/7. It is to be used for product launches and other important client events. I really wanted myself and the venue to be able to easily monitor the power load on each circuit at all times. Indream certified venues are connected and benefit from real-time show control, and operation analytics. StageSmarts allows us to identify in advance and at all times any potential issue, which might cause the power to trip out. Amplification of this size requires a lot of dynamic power load depending on the sound material. It was essential we achieve highly reliable operation and would not pose any safety risk to the venue staff, or the high-tech equipment in the system. When I first looked into it, I was amazed that I couldn't find anything on the market which provided this load monitoring ability."
Arny found his solution when he visited the PLASA show in London. On the stand of technology distributor, A.C. Entertainment Technologies, he saw a demonstration of the new StageSmarts smartPDU intelligent power distribution system. The smartPDU, which received a PLASA industry award for innovation from the show's organisers, has been designed to provide a new level of functionality, reliability and safety.
For users' complete clarity and peace of mind, it provides simple and highly accurate real-time load monitoring at any time and from any location, of each individual circuit – either via status indicators on the unit itself, or remotely via any device with a web browser. Users can therefore identify a potential problem before the circuit breaker trips. Safety features include individual RCDs fitted to all outputs, to maximise electrical safety whilst also minimising the impact of any electrical fault. In addition, loss of neutral protection prevents costly damage to connected loads caused by over-voltages.
Other features include industrial grade magnetic circuit breakers for reliable operation even in the harshest weather conditions, and an 'off the shelf' standard design available in 36, 48 and 72 channel versions, which can be configured for a wide range of applications and connector preferences thanks to its easily swappable output modules.
The Sensorium phase 1 immersive audio experience was launched to great success, assisted by the venue being able to accurately monitor the Titan Reality PA system's power load throughout the event.
Summarising his experience with the StageSmarts smartPDU, Arny commented: "It's a beautiful piece of kit, which is very easy to set up and use. I can't recommend highly enough the benefits of the smartPDU for applications where it's critical that the power never goes off, and when highly dynamic power requirements are needed. In my opinion it's a new benchmark in power distribution."