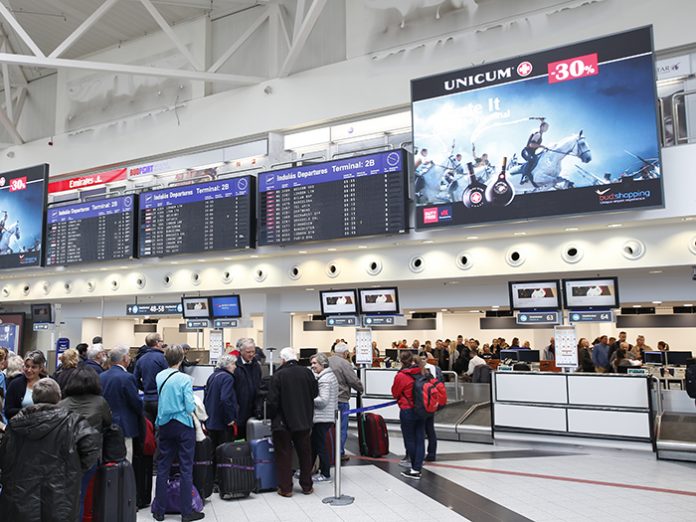 With over 16 million passengers every year, the Zagreb and Budapest airports are major gateways to Central Europe. Both airports are now equipped to host major advertisers and their campaigns thanks to Absen, who was selected by International Airport Advertising Corporation (IAAC) to provide high end LED solutions, further extending the penetration of the world leading manufacturer of LED displays into the airport sector. The transportation hubs now boast a number of award-winning Absen N4 indoor screens as well as XD6 outdoor panels.
IAAC won a public tender process as a first choice bidder, signing a long-term agreement as the exclusive advertising concessionaire for Zagreb and Budapest airports. It involved a complete overhaul of the existing visual solutions at Zagreb, which had no digital media in place. In Budapest, the approach focussed on upgrading the media already in situ, installing more technologically advanced, premium and large-sized digital media to cater for an airport of its size and traffic as a first-tier aviation hub in Central Europe.
Michael E Kyriakides is CEO at IAAC, and reflected on how and why Absen was chosen for such significant installations: "Our long-standing experience and involvement in the airport advertising area means we have established strong relationships with a number of trusted suppliers, like Absen. When we were considering the best fit for this project, we met with the Absen Europe team, had the opportunity to test a number of products which we were very impressed with – and visited the Absen manufacturing facility in China, which allowed our engineers and IT team to view and select the products that best fit our specific sales model and vision."
Shaun Xu, Absen's regional director for Eastern Europe, who supervised the project, expanded: "We take our position as preferred LED display supplier very seriously. We consider ourselves more than just a supplier – providing consultancy services on locations and technology usage, in addition to expertise and ideas gathered through our experience in working with leading OOH companies, and more specifically in airport environments."
Content displayed on the screens is processed through a content management system that was installed and directly controlled by the IT department at IAAC's Cyprus HQ. A notification system is in place in order to directly alert the IT team at HQ of any failures so that they can respond in a timely manner.
The N4 is an award-winning product series for the retail and installation sector. Slim and light at just 8.8kg per panel, it has an extra-wide viewing angle and easy front access for service – making it perfectly suited to the busy airport environment. The XD6 for outdoor use is a waterproof HD design which similarly offers a wide viewing angle and both front and rear access for maintenance. Both offer exceptional image clarity without compromise as demanded by today's global advertisers.
In Zagreb, the N4 display is positioned at a soffit height in the check-in hall, centred above all the check-in counters, while the XD6 display is positioned at the entrance and exit of the ramp for dropping off passengers outside the terminal itself. In Budapest, the N4 is stationed at each of the check-in terminals and hung from the ceiling rafters of the SkyCourt and the XD6 on the external approach to the airport. The locations were specifically chosen due to the consistently high traffic, the extended dwell time, and the space to install a large-scale display adding to the impact.
Michael continued: "The sheer scale and size of the LED displays were new to both markets and the impressively crisp and clear image displayed added to the sense of grandness. In addition, the locations of the screens add to the eye-catching nature: hanging from the ceiling, looming large above the check-in counters, greeting all as soon as they drive up to the terminal building. The outdoor displays in Zagreb are truly ground-breaking for a market that has never before experienced such media outdoors."
The installations took place in February 2017. All works in Budapest were completed in one stage, with each LED display taking approximately a week for installation and testing before it was fully activated. In Zagreb, the indoor display was installed and operational within three days, while the outdoor displays took longer allowing three months for permits to be granted by both the airport and local authorities, then a further month thereafter for the construction of the foundation and subsequent installation.
Naturally, installations on such a scale present certain challenges. When working outdoors, the unpredictable and uncontrollable nature of the weather has to be factored in, but an airport environment adds an additional set of considerations. Commented Michael: "Any operators working in an airport environment have to adhere strictly to security measures and protocols – one of which is the requirement that large-scale installations and maintenance works must be executed overnight when traffic is at its lowest. The ease of installation of Absen's products certainly helps in this kind of scenario."
"Absen products stand out from the crowd for three key reasons: ease of installation and service, reliability and of course, visual performance. In this respect, they are perfectly aligned with the requirements for working with an advertising company and in a modern airport environment: helping to overcome the challenges around security restrictions and time availability; ensuring airtime is delivered with campaigns shown at their visual best thanks to the reliability and quality of the screens," said Shaun of Absen's natural synergy and fit with the airport advertising sector.
Absen was on hand to support the IAAC team from the onset of sales in order to ensure the installation ran as seamlessly as is necessitated by the environment. Tutorials and training documentation was received and reviewed by IAAC's tech / IT teams, Absen technicians were sent onsite, and IAAC personnel will also attend an Absen training seminar scheduled later this year in Germany. Indeed, Absen continues to support beyond the installation phase – dispatching an engineer to Zagreb to optimise the outdoor screens in accordance with the weather conditions.
Michael concurred: "Time is of the essence in the airport advertising business and there is very little room to manoeuvre between security measures, constant traffic and the demands of advertising clients if something goes wrong and needs to be fixed. Quick and precise operational parameters are required and it is of tantamount importance to us to be able to rely on products to operate effectively day in and day out, and allow for round the clock monitoring access. We get all of this from Absen – they undoubtedly help us to execute against the deliverables expected of us."
With this in mind, Shaun remarked on how digitisation is transforming the airport advertising market and how Absen fits in the picture: "Our digital solutions can now be found in many of the world's leading airports, where our state-of-the-art technology captures the attention of millions of passengers every day. The airport landscape is rapidly changing – impressive installations and high-performance expectations are the norm – and we are pleased to be leading the charge with the product innovations we have introduced to the market. We pride ourselves on developing long-standing relationships with our airport customers based on the trust we have built through our dedication to quality in everything we do."
Michael concluded: "The installation of digital media solutions at Zagreb Airport undoubtedly triggered a spark in sales in Croatia that reignited advertisers in the market; a fantastic outcome of this project. Our clients – the airports and the advertisers – are very happy with the size and position of the media and the crispness and overall quality of the visuals. We are extremely satisfied with the Absen products and following the success of these installations, reaffirm our continued commitment to working in partnership together in the future."