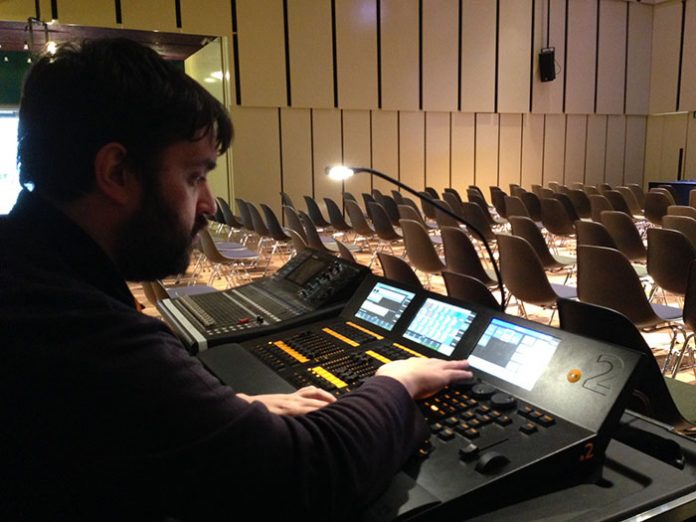 The Grade II listed Liverpool Philharmonic Hall, home of the Royal Liverpool Philharmonic Orchestra, has recently been transformed by a £14.5 million refurbishment. Part of the project has been the construction of a brand new performance space, Music Room, a 160-250 variable capacity space, designed to host a range of concerts and events which complement the programme in the main 1,750 capacity auditorium, as well as being a venue for Liverpool Philharmonic's extensive learning programme.
The major investment in the art deco style hall has included upgrading the lighting system with Liverpool Philharmonic opting to install an MA dot2 XL-F console. Liverpool Philharmonic's Head of Production, Gail Wroth said: "Whilst looking at the fixtures, fittings and equipment lists for our exciting new Music Room venue, Rob Beamer from Stage Electrics who were completing the install, offered the dot2 as another desk option, although we were not familiar with MA control which is distributed and serviced by Ambersphere Solutions.
"After exploring the intuitive online software with our team, we settled on XL-F version. It offers a great balance between physical faders and assignable buttons, providing just the level of flexibility we were looking for. The desk provides short reminders for most of the operations while the on-board help is always there if you need more assistance." Liverpool Philharmonic Production Technician Phil Higgins added: "The kit is very compact with a great range of functionality, is easy to use and a fantastic entry into the MA world of operation. It's capable of operating shows in our Hall's main auditorium as well as more intimate shows and events in Music Room."
The console is now used in both performance spaces at Liverpool Philharmonic Hall along with FOH spaces with differing lighting rigs. The main auditorium contains a selection of LED fixtures for orchestral lighting. From time to time, Liverpool Philharmonic also hires in supplementary lighting rigs for incoming shows in liaison with promoters and tours management.
On using the dot2, Gail added: "The dot2 is used right across our diverse programme of 300 plus concerts and events, including more than 60 concerts annually by the Royal Liverpool Philharmonic Orchestra. For the Orchestra's annual Christmas concerts, we chose to use the dot2 due to a small FoH position and the small footprint of the console. These concerts featured our standard hall orchestral fixtures augmented with a truss of moving lights and a selection of LED washes up-lighting the walls spread over 4 universes of DMX output via ACN, all programmed in to a comprehensive cue stack."
Liverpool Philharmonic's Production Team continues to explore the MA dot2's capabilities. Production Technician Steffi Warner said: "Whilst not having the power of a full sized MA it still holds the same values. It's perfect for both of our venues. It's a great desk for operators who aren't familiar with the MA system or who don't use lighting desks every day, with its handy step by step information. It's simple and straightforward with the most recent update opening a lot of new doors and added potential. And finally – the "Magic" button works!"