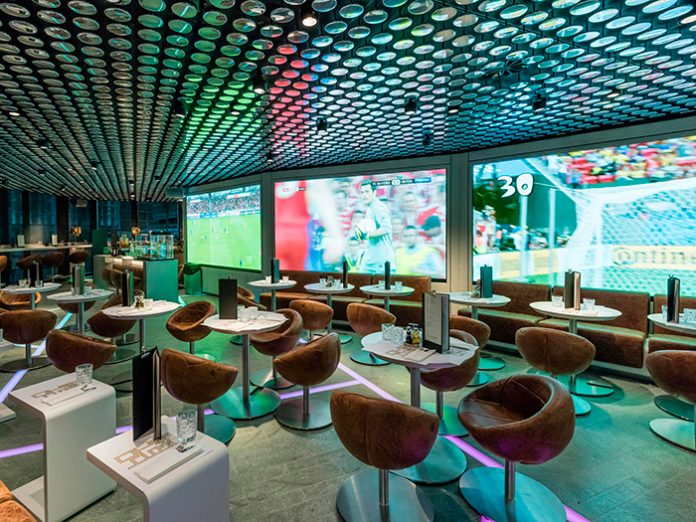 The Sportsbar 1904 has become a central hub of activity within the FIFA World Football Museum in Zurich for both museum visitors and the general public. This includes a visual highlight of the museum; three 3 x 2 metre SiliconCore Lavender 1.2mm LED displays and the first from any manufacturer to feature front service access on a pixel pitch this fine.
FIFA's brief specified having the best products available in their class, from the high resolution displays to the largest bandwidth streaming systems. Integrator AVS Systeme AG obliged by securing the first installation of SiliconCore's Lavender 1.2mm LED display with three 2400 x 1350 resolution screens, the smallest pixel pitch in the world at the time of installation.
The displays were required to show a complex range of content including up to 16 matches being streamed simultaneously. As the layout of the space can also be transformed for evening conferences, the screens needed to adapt to additional content such as FIFA show reels, advertising and presentations.  A centralised management system means content can be updated easily by the in-house team, enabling additional revenue streams to be maximised through advertising by complementary brands.
Laila Hede Jensen, Vice President of Sales – Europe for SiliconCore explained:  "Space within the area is at premium so we developed a bespoke bracket to make front service accessibility possible and are the first manufacturer to do so for a pixel pitch this small. This allowed the displays to be placed less than 200mm away from the back wall. The extra space gained with this design has meant area usage can be maximised, therefore expanding revenue streams and business potential in the venue. Close proximity viewing was an essential requirement with the bar seating literally inches away from the displays, so the distance of less than one metre and 160° viewing angle that the technology enables were ideal."