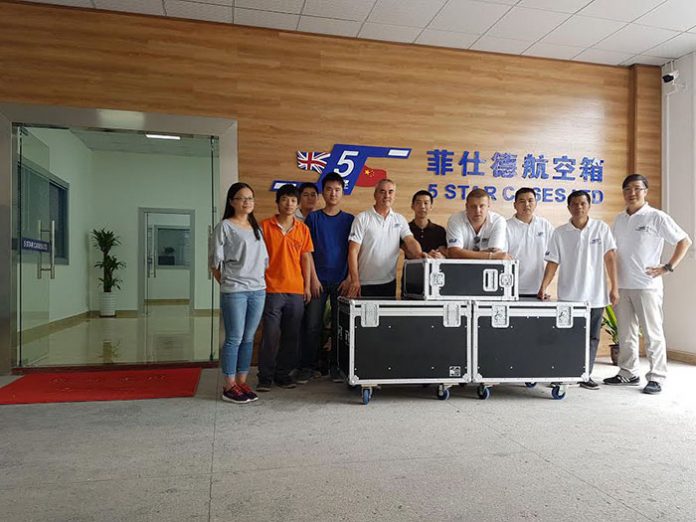 Leading flightcase manufacturer 5 Star Cases opens a new factory in Fenggang Town, Dongguan City, Guandong Province, China.
Established to run in parallel with the UK manufacturing base in Wisbech, Cambridgeshire, the new 5 Star China operation will primarily service the burgeoning domestic Chinese and wider Asian markets which are demanding high quality products, for which it's simply not practical to ship from the UK.
The idea has been on the horizon for some time explains 5 Star's Managing Director, Keith Sykes, but several elements needed to fall in line before the plan could be successfully implemented.
Running the new 1000 metre plus production facility will be 5 Star's local business partner James Zhang, a well-known, respected and highly successful entrepreneur who manages other manufacturing companies in the town, including travel bag / handbag and polythene carrier bag factories.
5 Star has known James for around six years. While case making is a new specialist area for his portfolio, he has brings a wealth of hands-on practical and administrative experience in the world of portable bagging solutions, together with a fund of knowledge in running a successful enterprise in the region.
He will initially work with a full time staff of around 15 at the 5 Star China plant.
The intention, explained Keith, is to mimic the UK operation as closely as possible in terms of the quality of products, innovative design, inclusive management style and the rigorous application of health and safety standards.
A brand new large format CNC machine is at the heart of the manufacturing which will be the key system for producing accurate cut panels for the majority of the case products.
The machine includes a fully automatic panel load/unload system, a function rarely seen from other case manufacturers, increasing productivity by rationalising the number of personnel required, freeing up the workforce for other duties.
A batch of plywood panels is loaded onto an automatic height adjusted lift table, and the CNC picks up each panel for machining. At the end of the machining cycle, the cut parts are pushed on to a motorised conveyor and a powerful dust extractor automatically 'sweeps' the table in readiness for the next panel.
Other elements of the process like the 'V' notching saw used to fabricate aluminium profiles, have also been inspired by the slick UK set up.
5 Star China is not just another case maker. It's intended to bring the same benchmarks of excellence, stylish design and well-engineered products to new and emerging markets, making the '5 Star Standard' accessible to all customers based in China, Asia and further afield
As well as delivering efficiently and cost effectively to 5 Star's existing clients, the strategy and the goal also is also very much to generate new business. They are also seeking potential OEM partners.
"We are hoping to repeat the success of the UK operation on all levels" states Keith enthusiastically, "We looked at China a few years back and the time just wasn't right; but now I am fully confident it is. This is a very exciting phase in 5 Star's development and will be a great enhancement to our brand worldwide".
The design and quoting infrastructure, the methodology and all the best aspects of the production process have been sourced from the UK facility and adapted to flourish in the new environment.
With excellent fast-and-wide internet, high capacity email and file transfer systems and video conferencing on demand, it is expected that this will be a smooth and streamlined transition.
Fenggang has seen several years of recent and constant construction that have helped it develop into a modern high tech urban manufacturing base with an export orientated economy. It's geographical location and close proximity to Hong Kong, Macau and multiple other strategic gateways to South East Asia, the Far East and the Pan Pacific, making it an ideal choice for businesses.