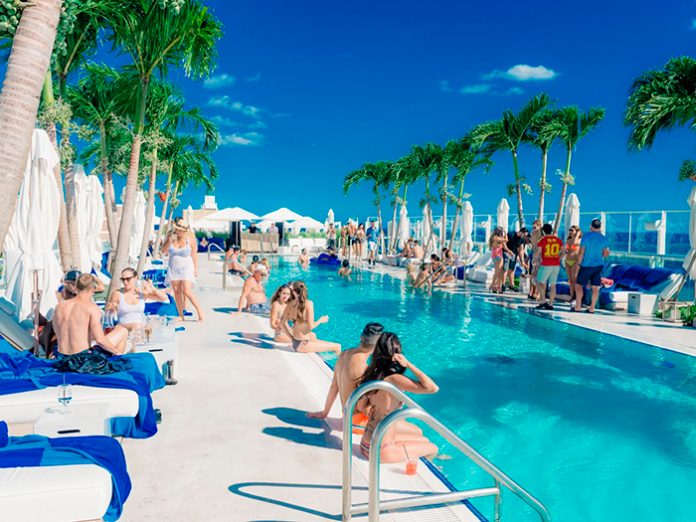 Opened in March 2015, 1 Hotel South Beach is an upscale hotel with an eco-conscious design. The hotel features large, sun-lit rooms, five food and beverage outlets and four swimming pools including a large rooftop pool that hosts nightly entertainment, special events and private parties.
AVLI of Miami designed and installed the audio system for the rooftop pool and bar area. The hotel emphasised their desire to be a good neighbour to nearby businesses and residential properties while providing an exciting entertainment experience for its guests.
To meet these goals, AVLI designed a distributed system to cover the rooftop pool and bar area while minimising neighbourhood annoyance and they chose Community W SERIES loudspeakers for their ability to provide high quality audio while standing up to the sun, wind and salt air of the beach-front environment. The system includes twenty-two model W2-2W8 two-way loudspeakers and twelve W2-112 subwoofers. AVL chose white versions to blend with the hotel's elegant décor.
AVLI's James Reed explained: "The rooftop area is completely open so we placed loudspeakers every six to eight feet with a focus on areas where people gather. That allowed us to bump up the level to create an exciting atmosphere without disturbing the neighbourhood." 20 Lab.gruppen amplifiers power the system which is controlled by a Biamp Tesira Forte DSP.
The Tesira also provides head-end services including user interfaces at the bar and cabana and inputs for DJs and live bands which eliminate the need for portable equipment.
James said the sound is very clear and consistent throughout the pool area with plenty of level and great musical quality. "We've had nothing but smiles from the 1 Hotel group," he added.