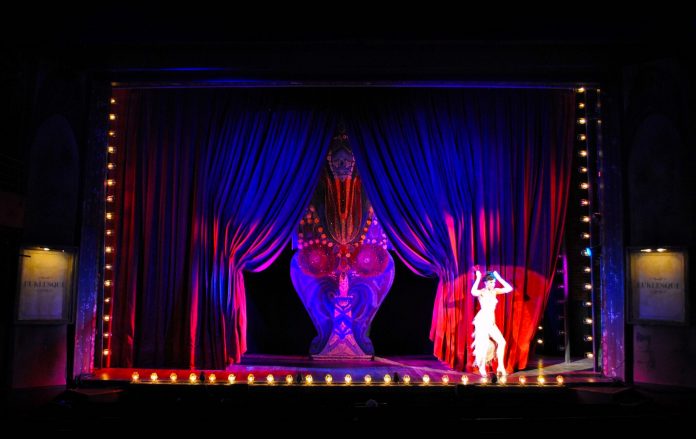 Theatre goers tend to arrive early at The Cape Playhouse, if for no other reason than to absorb the sense of history that permeates this timeless clapboard structure nestled on 26 acres off Cape Cod Bay. America's oldest continuously running summer theatre, the building has been hosting plays since 1927. Henry Fonda landed his first professional role here, so too did Bette Davis, after working as an usher. Humphrey Bogart, Betty White and Gregory Peck also performed on its stage as unknowns.
Dramaturgical storyteller Zach Blane was well-aware of the theatre's history when he journeyed up from New York to light a revival of the Jule Styne-Stephen Sondheim-Arthur Laurents classic Gypsy starring Julia Murney as Mama Rose. He scarcely had time to savour the building's historical charm, however, since he and his team had to set up a Broadway scale production in only one 10-hour day. Despite the short lead in, his nuanced lighting evoked the powerful emotional tides that shaped the complex relationship between legendary striptease artist Gypsy Rose Lee and her mother, Rose. Helping him capture this unfolding drama was a collection of CHAUVET Professional Ovation fixtures supplied by Boston-based High Output.
"Lighting Gypsy is a tall order, doing it in one day is an even TALLER order!" said Blane. "I approached the tech process as I would a festival show (as far as time management is concerned). I sat down with director Michael Rader and choreographer Jason Sparks beforehand, and mapped out every beat of the show. I like to know what every second of the show should feel like, which inevitably manifests into what it should look like! So in our fast tech process the creative team is 100% on the same page and we can all work as fast as possible, without having to spend a lot of time pondering what the moment 'wants to be' in tech proper. Of course, there is always room for a new, organic, ingenious idea once we begin moulding the piece, but I find having our intentions clearly defined gives a solid framework and foundation to be able to build from."
Describing Gypsy as a "deceivingly intricate dramaturgical puzzle," Blane explained how lighting helped convey the changes in the relationship between the plays protagonist and her mother over time.  "The play spans decades, and it also operates as a 'show within a show,'" he said. "I decided to utilise restraint in the early production numbers as to remain 'period appropriate'. Michael, Jason, David Arsenault (set designer) and I had many conversations discussing how these opening production numbers (Let Me Entertain You) were to look as if they were designed by Mama Rose herself.  We wanted to give these numbers a scrappy 'handmade' look, as it helped reinforce the idea that this renaissance stage mom was holding the bat and ball for it all to get her daughters to become stars."
 In Act Two, as Louise (the future "Gypsy") began her rise to stardom, the production values for her performances became increasingly more polished as well. "I wanted to convey, in light, that Louise has bypassed what her mother could have done for her, subconsciously making Rose feel less and less needed." explained Blane.  "Now, most of the audience would not actively be able to perceive these choices, but that is what I find most thrilling about being a lighting designer. Most audiences do not notice it, but all of them are affected by it. I think the modern aged lighting designer is the emotional compass of the production."
Blane credits the Ovation E-910FC ellipsoidals with helping him. He had eight of the RGBA-Lime colour mixing fixtures in his rig, all of them with 26° lenses. A pair of the Ovation fixtures with I-cue and auto-iris accessories dropped in were positioned over FOH and were used for multiple specials throughout the show. "The FOH Ovations allowed me to highlight specific moments with full colour options that took place within seconds of each other," said Blane.
The six remaining fixtures were arranged as head highs on either side of the stage.  "The Ovation fixtures onstage were instrumental in giving me quick colour options from the side."Blane explained. "Previously, I might have used incandescent fixtures with scrollers to achieve this, but the Ovation units are so much better in terms of noise.  This show has many intimate 'book scenes' so fan noise was a large factor on gear choice, and the Ovations are virtually silent."
 As the successful run of Gypsy drew to a close, Blane was able to pause and reflect on his experience lighting the iconic show at the historic Cape Playhouse. "Every bit of this process was rewarding! Everyone in the cast, on the crew, and creative team truly dug deep to get this ambitious production up and running." He said. "Right before we went into tech for Gypsy I had lit 15 other shows in about eight weeks time, so it was a great way to close out my summer season! I smile every time I think about this production and the people that made it happen. It was special!"
Indeed, the list of special things at The Cape Playhouse got a little longer in the late summer of 2017 with this production of Gypsy and its very forward-looking approach to telling stories with light.
www.chauvetprofessional.com