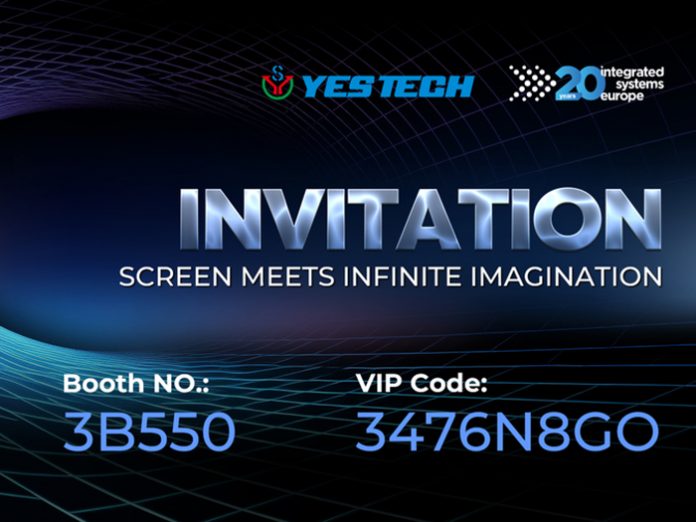 YES TECH will be appearing at Integrated Systems Europe 2024 (ISE) with the theme of screen meets infinite imagination.
Four Main Display Solutions
Rental Staging Solution: The staging rental area will present the new product MG7 II Series, which has the excellent performance of our MG7S but with strong anti-collision ability and high stability. Combined with MG11 P2.9 to dazzles people with wonderful visual effect.
Creative-shaped Rental Solution: To make the stage more eye-catching and memorable, MG common cabinets in combination with MG Creative-Extended Series can create various shapes such as letter, numbers, heart,etc., to make the displays better applied and promoted. High-end
Conference Solution: YES TECH provides the Mnano II Series which used the new upgraded COB flip technology will play a significant role in conference, providing visual enhancements and facilitating better communication and engagement. With cold screen touch and low consumption to turn the Mnano to a perfect choice for indoor activities.
Outdoor Advertising Solution: As the outdoor application for fixed installation, Mview series P3.3 on the scene can be the first choice of outdoor high-definition advertisement. It can enhance visual clarity and improve resolution for closer viewing distance, delivering an immersive experience.
The Launches of New Products
The MG7S Ⅱ Series with increased load-bearing capacity and tensile strength which can be more reliable and stable. Features increased LED's thrust and optimized edge distance which can cover 100% indoor and outdoor rental applications, also for floor tiles. MT series is a new member of our rental products. As a transparent screen, it is lightweight and slim with more than 40% transparent rate. Also supporting splicing of ±10°inner and outer arcs and with the characteristics of high refresh rate and brightness, which can bring a wonderful viewing experience.
Booth No.3B550
Time: January 30, 2024 – February 2, 2024
Location: FIRA Barcelona, Gran Vía