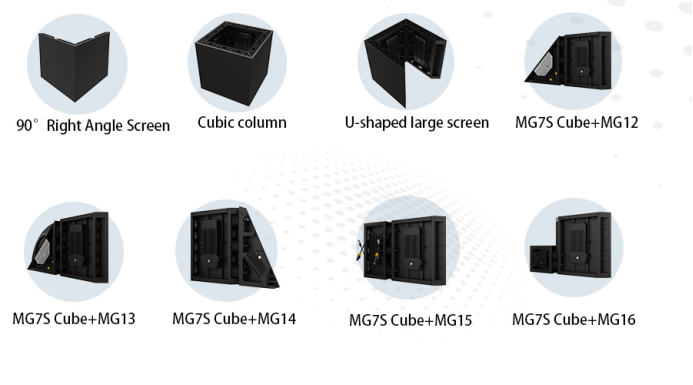 YES TECH has launched its newest addition to the MG series, the MG7S Cube. With seamless splicing, the MG7S Cube offers vivid visuals and countless design possibilities, redefining stage performance with its revolutionary design.
The MG7S Cube improves upon the traditional screen of the MG7S series with its patented connector, allowing for splicing with creative extension series. This innovative feature enables various shapes to be created, such as numbers and letters, providing a sense of space with a more diverse stage shape, thereby unlocking unlimited creativity.
The MG7S Cube cabinet is ideal for high-scene applications. With a linear secondary adhesion process, the thrust of lamp beads is increased by 100%.
Its modular design makes disassembly and installation quicker, while its internal wireless feature makes power transmission more secure and stable.
The MG7S Cube series was able to withstand both low temperatures at the Beijing Winter Olympics and the high temperatures for the Dubai World Expo, with its protection level reaching IP65.
Its strong environmental adaptability fully meets the needs of indoor and outdoor use, making it perfect for all-scene applications.
In addition to the MG7S Cube, YES TECH has also launched its Mnano II series of small-pitch products. The Mnano II series utilises full flip-chip COB technology, which has become the leading development of the display industry.
This technology has several performance advantages, including low-temperature rise, low power dissipation, uniform heat dissipation, cold screen touch, and ink colour long-term consistent advantage.
The Mnano II series boasts several performance advantages, such as high uniformity ink colour, good viewing experience, delicate display with restored natural colours, cool screen, and an extended lifespan.
Its six-dimensional protection fully guarantees its reliability, with a light board protection level of up to IP54, panel hardness of 4H, and six-dimensional protection against moisture, dust, fingerprints, static, collision, and oxidation.
YES TECH will be showcasing at Integrate Middle East 2023, InfoComm Asia 2023, Saudi Light & Sound Expo 2023, InfoComm 2023, and Live Entertainment Expo 2023.